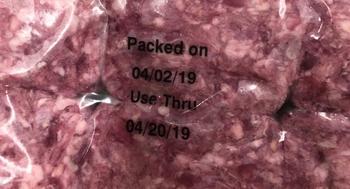 Colorado Premium Foods of Carrolton, Ga., is recalling approximately 113,424 pounds of raw ground beef that may be contaminated with E. coli O103.
The Agriculture Department's Food Safety and Inspection Service (FSIS) is investigating an E. coli O103 outbreak to determine if the recalled products are involved.
At this time, there is no definitive link between these products and the E. coli O103 outbreak.
The following items, produced on March 26, March 29, April 2, April 5, April 10, and April 12, 2019, are being recalled:
Two 24-lb. vacuum-packed packages in cardboard boxes containing raw "GROUND BEEF PUCK" with "Use Thru" dates of 4/14/19, 4/17/19, 4/20/19, 4/23/19, 4/28/19, and 4/30/19.
The recalled products, bearing establishment number "EST. 51308" inside the USDA mark of inspection on the boxes, were shipped to distributors in Port Orange, Fla., and Norcross, Ga., for further distribution to restaurants.
What to do
The recalled products should be thrown away or returned to the place of purchase.
Consumers with questions regarding the recall may contact Ashley Barnes at (970) 313-4400.