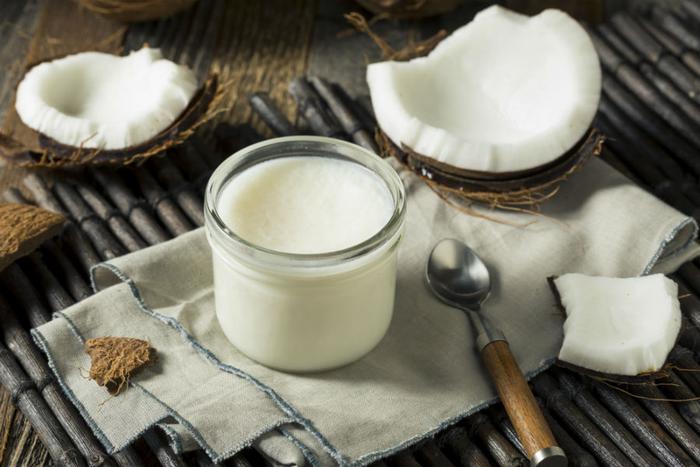 Sales of coconut oil have soared in recent years, driven by claims that the product can help with weight loss and brain function. Now, one Harvard professor says the numerous health claims surrounding the so-called superfood are unsubstantiated.
In a 50-minute lecture delivered in German and translated by Business Insider, Karin Michels of the Harvard T.H. Chan School of Public Health called coconut oil "pure poison."
"It is one of the worst foods you can eat," she said in a lecture titled "Coconut Oil and Other Nutritional Errors," which has racked up almost a million views on YouTube.
Michels said the popular product poses a bigger heart health risk than lard due to the fact that it's comprised almost entirely of saturated fatty acids, which can block arteries. Additionally, nutrition experts say there is little scientific evidence to support claims that coconut oil has health benefits.
"There's virtually no data to support the hype," Alice Lichtenstein, a Tufts University professor of nutrition science and policy who is also vice chair of the federal government's dietary guidelines advisory committee, told The New York Times.
Can raise bad cholesterol
While coconut oil isn't "poison" in a literal sense, a study conducted in 2017 by the American Heart Association (AHA) data found that more than 80 percent of the fat in coconut oil is saturated. For comparison, butter is 63 percent saturated fat and pork lard is 39 percent.
"Because coconut oil increases LDL cholesterol, a cause of CVD (cardiovascular disease), and has no known offsetting favorable effects, we advise against the use of coconut oil," the AHA said in an advisory last year.
The organization recommends consuming no more than six percent of saturated fat as part of total caloric intake each day.
Healthier cooking oils
Health experts say flaxseed oil and grapeseed oil are good alternatives to coconut oil since they are comprised of a significant amount of unsaturated fatty acids. Soybean, sunflower, and corn oil are also better for cholesterol levels than coconut oil.
"What we do know is that replacing saturated fats with unsaturated fats like vegetable oil, olive oil and sunflower oil, and their spreads, has been shown as an effective way to help reduce LDL cholesterol levels, so this would be a healthier choice," Victoria Taylor, a senior dietician at the British Heart Foundation, told The Guardian.
"For the time being, if you like the taste of coconut oil, then, as with butter, it's fine to use it every now and then. However, it's best to restrict yourself to small amounts and use unsaturated oils as an everyday choice instead," Taylor said.