---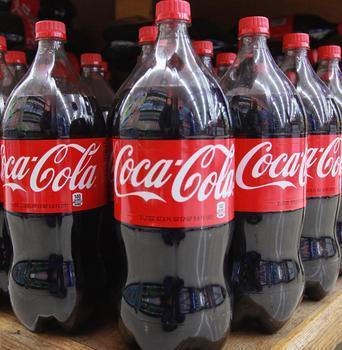 Last September came news that Campbell's soup company was joining forces with Keurig coffee makers, presumably in hopes of tapping the lucrative "customers who want their dried soup mix with coffee-flavored water added" market.
And now, Coca-Cola is making its own forays into the coffee market, having bought a 10 percent stake in Green Mountain Coffee Roasters -- which makes the Keurig machine -- in hopes of selling its beverages through an at-home system Green Mountain is devising. (Or maybe we should reverse that order: Last September, Keurig coffee joined forces with Campbell's to enter the instant-soup market, and now it's going after chilled carbonated beverages, too.) Either way, it's a big deal for Green Mountain.
"This global relationship combines The Coca-Cola Company's unparalleled brand, distribution and marketing strengths with GMCR's innovative technology and beverage system expertise," said Brian P. Kelley, President and CEO of Green Mountain.

Coke would have you think it's doing all this to make your life immeasurably better.
"Importantly, this partnership provides our consumers with a convenient way to enjoy the brands they love through in-home preparation," said said Muhtar Kent, Chairman and Chief Executive Officer, The Coca-Cola Company.
Stop the slide
It may also help Coke reverse a decade-long slide in soda consumption and put a stake through the heart of Sodastream as well.
Some of that decline in soda consumption is doubtless due to the rise in concerns over diabetes and weight gain, but blame also belongs to the rise in at-home soda fountains such as SodaStream. (Indeed, while some people might roll their eyes at the thought of an at-home soda fountain – once upon a time, the thought of people brewing their own coffee at home inspired just as much eye-rolling.)
For Keurig/Green Mountain, working Coke into its business operations will be more complicated than Campbell's. The Campbell's Soup offerings work on the same basic principle as the coffee K-cups: open the cup and add hot water. Soda-making is a completely different process, requiring a steady source of cold carbonated water.
Green Mountain says its Coke-based home drink offerings should be available by September 2015.
---