---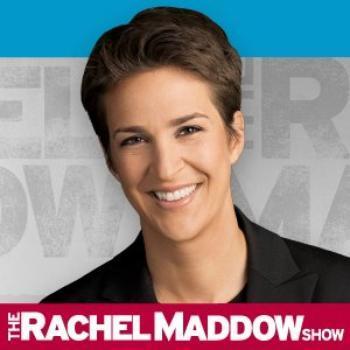 Remember news? There used to be reporters who went out and covered important public events, asked annoying questions, tried to pry information out of tight-lipped politicians and soothsayers.
Reporters tried hard to be fair, nonpartisan and accurate. Oh, they had opinions, all right -- they basically despised everyone they covered -- but tried to keep them to themselves.
Times have changed. There aren't many reporters anymore but there certainly are a lot of "Journalists" and commentators and analysts and prognosticators. Most of them are corraled in cable TV newsrooms, where they spend their days pontificating, expressing their opinions about one thing and another.
This is not really journalism but it's inexpensive to produce and not too filling, sort of like fast food.
Not much news on news channels
Nowhere is this more true than at the three cable "news" channels -- CNN, Fox and MSNBC. A new study from the Pew Research Center finds that the three channels have become "strikingly similar" over the last five years. In particular, the study found that all three of the channels are increasingly relying on interviews and bloviating rather then actual reporting.
"CNN, which has branded itself around reporting resources and reach, cut back between 2007 and 2012 on two areas tied to that brand -- in-depth story packages and live event coverage," Pew said. "Even so, CNN is the only one of the three big cable news channels to produce more straight reporting than commentary over all. At the other end of that spectrum lies MSNBC, where opinion fills a full 85% of the channel's airtime."

What? MSNBC is more opinionated than Fox? Yep. Pew said its analysis found that "by far the highest percentage of opinion and commentary is on MSNBC (85% to 15% reporting)." CNN was the only channel to offer more reporting (54%) than opinion (46%). Fox was in between at 55% commentary and 45% reporting.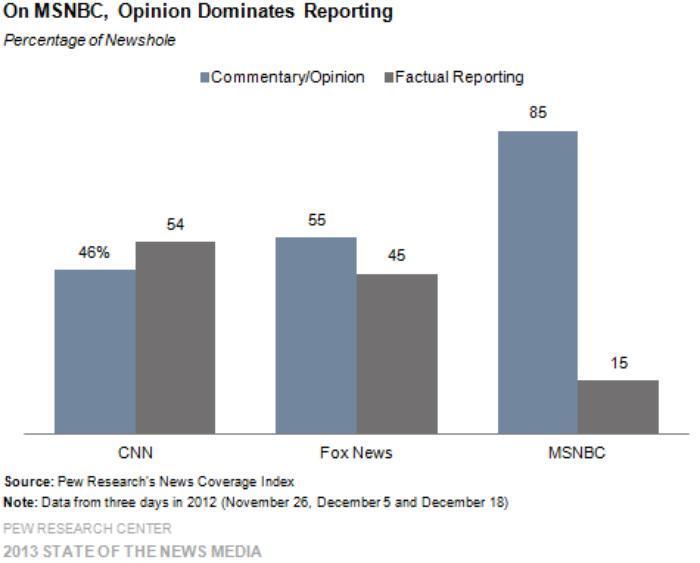 It's fortunate, perhaps, that Pew didn't do a story count. In its heyday, CNN jammed hundreds of stories into each day's coverage. It now selects what might be called a daily "playlist" of a few stories that it grinds into dust by day's end.
Traffic and weather
Elsewhere, Pew found local television placing more emphasis on traffic, weather and sports, all inexpensive to cover. But the Pew researchers expressed concern that with digital sources covering these same topics on demand, local stations may soon be talking to themselves. Do you, after all, really need traffic information when you're plopped down at home in front of the TV?
Pew took comfort, however, from the network evening news shows, which it termed a "rock of stability." Most industry analysts would consider them basically relics that the networks keep around as brand enhancers, but why quibble?
"Despite the steady erosion of the early evening audience and continuing doomsday predictions about the future, the structure and format of the network newscasts have changed remarkably little since 2007, far less than on cable or local television news," Pew said.
Thanks
Keep an eye on your inbox, the lastest consumer news is on it's way!
Unsubscribe easily whenever you want
---