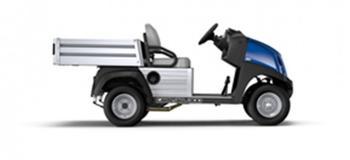 Club Car of Augusta, Ga., is recalling about 1,300 Club Car Gas Carryall 300, Transporter, Villager Vehicles, Streetrod Lux and Streetrod Vintage Vehicles sold in the U.S., and Canada.
Under continuous operations with low speed idling periods and a full gas tank, the fuel vent can allow fuel to leak, posing a fire hazard.
The firm has received two reports of fuel leaks. No injuries have been reported.
This recall involves 2019 utility and transport vehicles, which vary in size, models and colors and are used for short-distance transportation.
The recalled vehicles can be identified by the model and serial numbers. Serial numbers are above and to the right of the accelerator pedal.
The model number is the first two letters of the serial number. Recalled models and serial numbers include:
Model Name                Serial Number Range
CA300, Gas                 MC1902- 939803 – MC1936-003158
Transporter, Gas           MK1901-938752 – MK1936-001620
Villager 6 Gas              SE1903-941645 – SE1936-003004
Villager 8 Gas              SF1902-941407 – SF1936-003040
Transporter XL Gas     SK1907-948159 – SK1932-994341
Transporter XLC Gas  ZV1908-949040 - ZV1928987110
Streetrod Lux              SO1908-948943 – SO1908-948929
Streetrod Vintage        SO1902-939821 – SO1937-004374
The utility and transport vehicles, manufactured in the U.S., were sod at authorized Club Car dealers and Streetrod nationwide from July 2018, through March 2019, for between $8,000 and $16,000. Streetrod branded vehicles were sold by Streetrod dealers from July 2018, through March 2019, for between $18,000 and $20,000.
What to do
Consumers should immediately stop using the vehicles and contact Club Car to schedule a free repair. Club Car is contacting owners of the recalled gas utility and transport vehicles directly.
Consumers may contact Club Car toll-free at (888) 227-7925 from 8 a.m. to 5 p.m. (ET) Monday through Friday, or online at www.clubcar.com and click on "Safety and Recall Information" at the bottom of the page for more information.