---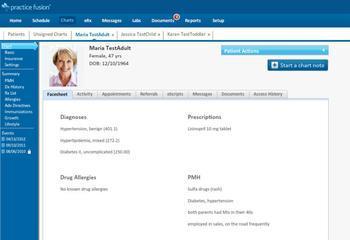 A cloud-based health records company violated patients trust by soliciting "incredibly sensitive" information that it then made public as part of an attempt to build a consumer review site that rated doctors, the Federal Trade Commission charged.
Practice Fusion, which provides electronic record-keeping to doctors, sent emails to the patients of its clients, inviting them to rate their physicians. It did so without fully disclosing that the reviews would be publicly displayed and might reveal patients' personal medical information, the FTC said.
"Practice Fusion's actions led consumers to share incredibly sensitive health information without realizing it would be made public," said Jessica Rich, Director of the FTC's Bureau of Consumer Protection. "Companies that collect personal health information must be clear about how they will use it – especially before posting such information publicly on the Internet."
Agrees to settle
Practice Fusion has agreed to settle the FTC's charges by saying it will not make deceptive statements about the privacy or confidentiality of the information it collects from consumers.
The FTC said the emails, which were sent out beginning in April 2012, were made to appear as though they were coming from the patient's doctor and said the ratings would "help improve service."
According to the FTC's complaint, the survey included a text box where patients could enter any information they wished within a set character limit.  Because patients likely thought the information was only shared with their provider, many of them included in the text box their full name or phone number along with personal health information inquiries. For instance:
one consumer asked for information on dosing for "my Xanax prescription";
one consumer included a request for help with a depressed child, writing "I think she is depressed and has stated several times this week that she wishes she was dead"; and
one consumer wrote that "I did a little research and I think I have a yeast infection called candida."
Those comments then appeared in reviews publicly posted by Practice Fusion.
It's No. 1
Practice Fusion claims to be "the #1 cloud-based electronic health record (EHR) platform for doctors and patients in the U.S., with a mission of connecting doctors, patients and data to drive better health and save lives."
Its website claims it has "community of over 112,000 health care professionals."
"Market research opportunities are available to survey these users on their views of healthcare trends, products, conditions, or a topic of your choice," the company's website says. 
---