---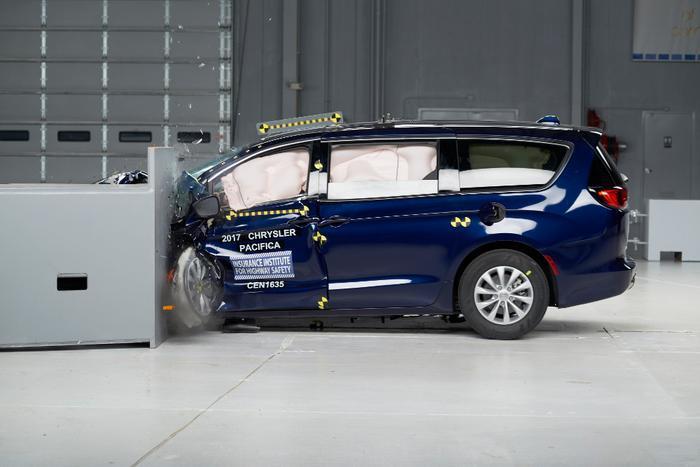 The Chrysler Pacifica, which replaces the Town & Country, is the first minivan to earn the Insurance Institute for Highway Safety (IIHS) 2016 TOP SAFETY PICK+ award.
The newly introduced vehicle has good ratings in the IIHS five crashworthiness tests. However, the good rating in the small overlap front test applies only to Pacificas manufactured after August, when changes were made to prevent the driver door from opening during a small overlap crash. Before those improvements were made, the door was torn from its hinges and came open at the front.
Major improvements
Fiat Chrysler strengthened the upper hinge and reinforced the joint between the door hinge pillar and inner body panel in front of the pillar. When the vehicle was tested a second time, the door remained attached and closed -- resulting in a good rating. In contrast, the Town & Country was rated poor for small overlap protection, due to severe intrusion into the driver space.
The Pacifica is available with an optional front crash prevention system, which earns a superior rating. In IIHS track tests at 25 mph and 12 mph, the vehicle avoided collisions. The system also gets credit for a forward collision warning component that meets National Highway Traffic Safety Administration criteria.
To qualify for a 2016 TOP SAFETY PICK+ award, a vehicle must earn good ratings in the small overlap front, moderate overlap front, side, roof strength and head restraint tests.
It also must have an available front crash prevention system that earns an advanced or superior rating.
---