---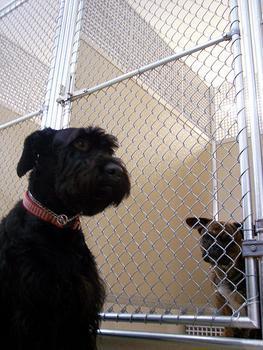 If you're a pet owner and you have to go out of town or on vacation, what do you do? 
Sure you can ask a family member or close friend to take care of your pet, but they may not know how to do it or may not want to. Plus, most people are busy and may not have the time to properly care for your dog or cat.
So some people will use a boarding kennel to watch their pet. But is that such a great idea? The folks at The Humane Society say yes and they give a few reasons why -- most importantly, a professional can give your pet the attention he or she needs, which might not be the case if you take your pet out of town with you.
A trained professional should be able to spot any health issues too.
This is a huge benefit, especially for pet owners who plan to be out of town for an extended period of time. Although a friend or family member may be good with animals, he or she probably isn't trained to notice any health problems.
Of course another benefit of using a boarding facility is that you don't have to take your pet on a long car or airplane trip, which can be stressful for both you and your pet.
According to advice from the UC Davis School of Veterinary Medicine, you should visit the boarding facility that you're planning to use. This will allow you to have an image of where your dog is staying, which can make you feel more at ease while you're away.
Additionally, visiting a boarding kennel beforehand allows you to ask all the questions you want and it gives you the chance to go over any special needs your pet may have.
Know what you want
Dianna Young, co-owner of Stella Ruffington's Doggy Daycare, a Seattle based facility that provides overnight and day care for dogs, says pet owners have to decide exactly what type of facility they're looking for.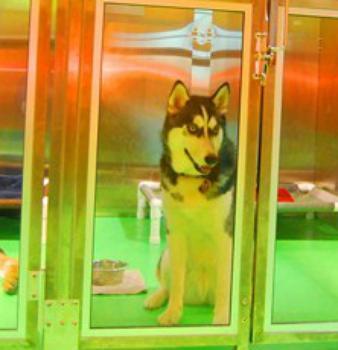 "There are various types of boarding facilities; some offer only individual walks two or three times a day, others offer group settings," Young says on the company's website. "Do you want your dog to be able to play with others while he is boarding? Or is he a little antisocial and would prefer to be in a den of his own with private walks and play times?"
"Do you want him to have his own den and belongings or do you prefer an open plan environment? Does your dog need a quiet room? These are factors you must keep in mind when deciding on the best boarding facility for your best friend," she says.
However, pet owners should consider the cons of using boarding facilities as well. 
Experts say that a lot of pets can become stressed while being in a new environment, especially if the facility is overcrowded. Pets can be more exposed to health issues as well, since they'll be living closely with other animals.
It's important to visit a facility to ensure it smells and looks clean. You want to make sure it maintains the proper temperature and has enough ventilation for your pet as well.
In addition, it's good to ask the staff what they do about bathing and grooming for your pet and what type of veterinarian services they provide. And ask how much space there is between the dogs and the cats in the facility.
Trial run
Another good idea is to let your pet stay overnight before you leave for your trip. This will allow you and your pet to have a test run to see how everything goes. Any good kennel should be happy to arrange a trial overnight. If not, look elsewhere.
The San Francisco SPCA says a good boarding kennel will have a private and spacious place for your dog to stay. And that area should always be cleaned and properly maintained.
A good boarding kennel will ask for proof of your dog's vaccinations as well.
Lastly, the non-profit organization says boarding facilities are best suited for dogs, because dogs are social animals and suffer more when they're alone.
Cats, on the other hand, find it more difficult to adapt to new environments and have a greater chance of experiencing stress. Experts suggest using a professional sitter for cats if possible, but it obviously depends on the cat's temperament.
---