---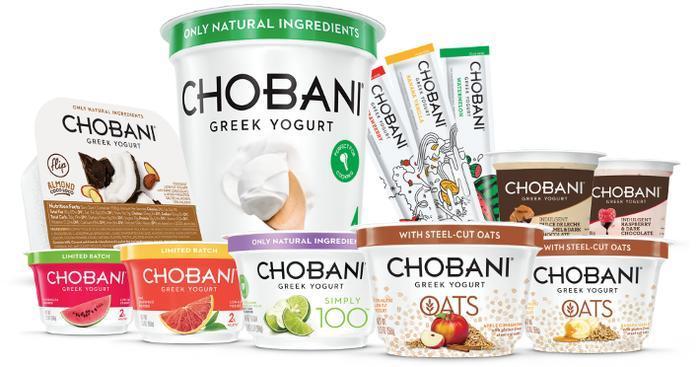 Chobani may be finding the Greek yogurt field a little crowded lately, as competitors flood supermarket shelves with the gooey dairy product. So, starting in June, the company will roll out some new products, including:
Chobani Greek Yogurt Oats, strained Greek yogurt mixed with ripe fruit and whole grain steel-cut oats. In traditional flavors such as Banana Maple, Apple Cinnamon, Blueberry and Cranberry, it's Chobani's take on oatmeal.
Chobani Indulgent is the brand's first dessert product, containing full-fat Greek yogurt, featuring real cream, dark chocolate and ripe fruits.
Chobani Kids is a high-protein, low-sugar snack that comes in flavors aimed at kids -- grape, watermelon, vanilla chocolate dust among others.
Chobani Seasonal is a seasonal twist to the core line. The limited flavors will refresh each season, kicking off this summer with Watermelon and Pink Grapefruit.
Chobani Simply 100 Greek Yogurt in Key Lime and Pineapple Coconut will deliver new low-calorie options for weight managers looking for light yogurt.
The introduction of 4% whole milk Chobani Kitchen answers what Chobani says is consumers' call for full-fat dairy products -- for recipes or a single-serve occasion, for use in toppings, on a baked potato or other dishes.
Beyond breakfast
The company said the changes will "push Greek yogurt beyond breakfast and provide better food for more people throughout the day."
"We've always believed that if we can't do something better, we won't do it at all. With our new products and innovations, we are extending the way people enjoy Greek yogurt in America and bringing better food to more people," said Hamdi Ulukaya, Chobani Founder and CEO, Chobani. "We're just getting started."
There's still plenty of room for growth in the yogurt category, Ulukaya said.
USDA estimates per capita consumption of yogurt has leapt from roughly two pounds in 1975 to about 14 pounds today. That, however, remains well below the approximately 40 pounds consumed in countries such as Germany and France or even the 20 pounds in Canada.
The changes aren't just innovation for its own sake. Ever since a series of incidents in 2013 that sickened consumers who complained of a "funny taste" in the yogurt, Chobani has been feeling the pressure as General Mills, Danon and others muscle into the Greek yogurt business.
The problem was eventually blamed on mold.
Whole Foods elbowed Chobani aside earlier this year, saying it wanted to make room for yogurts made with milk that had not been genetically modified. Chobani promotes its product as "natural" but many critics say the company uses milk from cows that are fed with genetically modified feed.
---