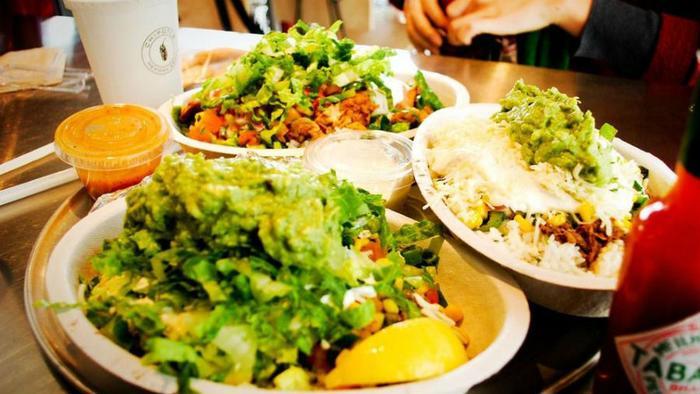 Chipotle has started offering "Lifestyle Bowls," a new lineup of meals that fit into consumers' paleo, ketogenic, and Whole30 diets.
On Wednesday, the restaurant chain began rolling out the new options, which include the Whole30 Salad Bowl, the Paleo Salad Bowl, the Keto Salad Bowl, and the Double Protein Bowl.
"These first-to-category, diet-driven menu offerings are helping those who have committed to living a healthier lifestyle by making it easy to order delicious bowls that only contain the real ingredients permitted by certain diet regimens," the company said in a statement.
The new diet-friendly bowls can be ordered in-store on a walk-in basis, as well as online and via the chain's mobile app.
Here's what's included in each bowl:
Whole30 Salad Bowl. Romaine lettuce, carnitas, fajita veggies, tomato salsa, and guacamole

Paleo Salad Bowl. Romaine lettuce, barbacoa, fajita veggies, green salsa, and guacamole

Keto Salad Bowl. Romaine lettuce, carnitas, red salsa, cheese, and guacamole

Double Protein Bowl. White rice, black beans, chicken (full portion), steak (full portion), red salsa, romaine lettuce, and sour cream
Chipotle has been trying to recover from a sales slump set in motion by a series of E. coli outbreaks dating back to 2015. The new diet-friendly menu options mark the chain's latest effort to regain consumers' favor.
Best overall diets
While the popularity of some of the trendy diets Chipotle is catering to have been fueled by social media, others have earned the stamp of approval from respected nutritionists and medical professionals.  
The editors at U.S. News and World Report recently consulted these professionals and dubbed the Mediterranean Diet the best overall diet.
Followers of the Mediterranean Diet are encouraged to eat mostly plant-based foods like fruits and vegetables, whole grains, legumes, and nuts. Instead of butter, the use of products containing healthy fats, such as olive oil, is recommended. Research has shown that the Mediterranean Diet is associated with heart protection, a longer lifespan, and fewer illnesses.
The Ketogenic (or "Keto") Diet ranked as the 38th best overall diet out of 41. U.S. News cited its strict carb limits and extreme nature as drawbacks of the diet, but the agency said it was a good option for fast weight loss.
"While these diets enable quick weight loss for those with a short-term goal—there's a strong chance you'll drop significant weight within the first 12 months—keep in mind that this is markedly different from long-term weight loss, which is more important for your health," the report said.