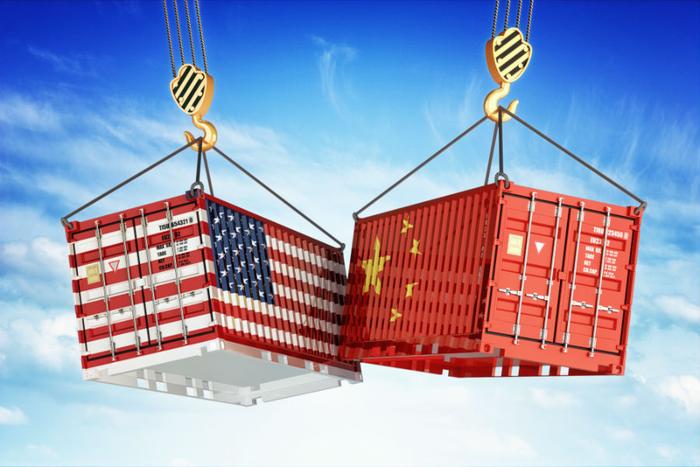 On Friday, China accused the U.S. of starting "the largest trade war in economic history" by imposing 25 percent tariffs on $34 billion dollars' worth of Chinese goods.
The tariffs, which took effect on Friday at midnight, prompted Chinese officials to fire back with retaliatory tariffs on U.S. goods, which would immediately go into effect on American imports. The country accused Trump of trade bullying, and of setting off a chain of possible adverse effects for U.S. consumers, as well as those abroad.
"This act is typical trade bullying," a spokesperson for China's Ministry of Commerce said in a statement on Friday. "It seriously jeopardizes the global industrial chain, … hinders the pace of global economic recovery, triggers global market turmoil and will affect more innocent multinational companies, general companies and consumers."
"China is forced to strike back to safeguard core national interests and the interests of its people," the Commerce Ministry added.
Trump has accused China of abusing unfair trade practices and harming U.S. companies. He has threatened to impose another set of tariffs, worth $16 billion, later this month. China has said it would respond in kind with additional tariffs on U.S. goods, such as machinery and plastics.
Effect on industry and consumers
U.S. officials have warned President Trump that the retaliatory tariffs will likely have a major impact on consumers and manufacturers by making imported goods and their component parts more expensive. For example, the tariffs are expected to make soybeans more expensive.
"They are a vital trading partner, and we need to continue to do business with China without the sting of these tariffs," said American Soybean Association President John Heisdorffer in a news release. "It is imperative that we maintain the robust market we have worked so hard for decades to establish with China."
American growers supplied one-third of the soy that China imported last year. Heisdorffer noted that soy sees heavy use in China as animal feed.
"They have a sizeable feed industry that's dependent on soybeans, the largest swine herd in the world, the largest global aquaculture industry, and are rapidly modernizing their poultry, egg, dairy, and beef industries," Heisdorffer added.
The trade war could also have a significant impact on China's exports, which total $2 trillion and were a key factor in the economic crisis that occured a decade ago.
"The driving force of the Chinese economy is mainly exports," Hua Min, an economist at Fudan University in Shanghai, told the New York Times. "If there are no exports, there will be manufacturing overcapacity. Manufacturing overcapacity will lead to debt. And debt will affect companies' balance sheets. Then it will be 2008 all over again."
Other major U.S. industries --  including pork producers, who rely heavily on Chinese demand -- could potentially lose billions of dollars as a result of the second round of pork tariffs from China.
"The longer these trade disputes go on, and the cloud of uncertainty remains over the industry, it's going to have real negative financial consequences for U.S. pork producers," Jim Monroe, a spokesman for the National Pork Producers Council, told CNBC. "It's a shame, because we support so many jobs, and when we can compete on a level playing field around the world we do extremely well."