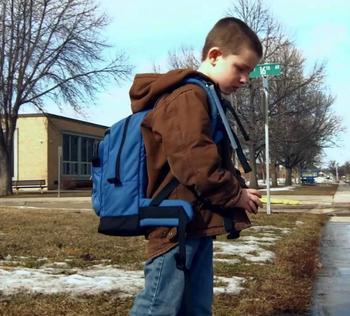 Weighted blankets may provide nighttime comfort to those with anxiety. Now, weighted backpacks may provide daytime comfort to children with autism.
Research shows that added weight and pressure on the body can help mitigate the effects of an overstimulated sensory system, and that's the idea behind Nesel Packs.
The business venture of a group of students from the University of Minnesota, Nesel Packs are sensory-friendly backpacks that have been designed to help calm children on the autism spectrum while they're at school.
In addition to serving as a vehicle for laptops and school supplies, the vest-like backpacks come with fabric-lined straps that are wider at the base. The straps are "really meant to hug you," co-founder Martha Pietruszewski told KARE11.
Calming effects
The hugging effect of the straps could provide a means of receiving deep touch pressure, which has been shown to help calm children with autism.
After his eye-opening experience working with kids on the autism spectrum, co-founder Jake Portra set out to create a product that could cater to the unique struggles and talents of kids with autism.
Children and adults with autism are often more sensitive to light, sound, and touch, according to AutismHelp.org.
"I thought hopefully we can make a product that allows them to forget about those difficulties when they're at school," Portra said.

Nesel Packs, which come in a variety of colors, are designed to fit kids between ages six and 12. They can be pre-ordered for $115.
Other products 
While Nesel Packs may be the first sensory friendly backpack to hit the market, other products have been designed with the same goal in mind.
The Snug Vest is an inflatable vest that also provides deep pressure therapy. Other products, like the Chill-Out Chair, don't have to be worn to impart a sense of calm.
Taking a load off in the Chill-Out Chair promises a pressurized cocoon-like experience for kids with autism and disabilities.