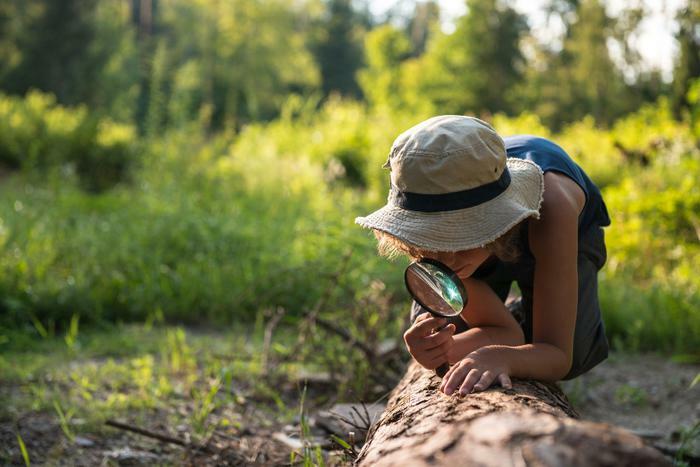 Parents who are looking for ways to get their children outside and active this summer may have a new reason to redouble those efforts. Findings from a recent study suggest that engaging in "adventurous" playtime can help children develop better mental health. 
Helen Dodd, the lead researcher of the study and a professor of child psychology at the University of Exeter, says investing in ways to promote adventurous play can only benefit children in the long run. 
"We're more concerned than ever about children's mental health, and our findings highlight that we might be able to help protect children's mental health by ensuring they have plentiful opportunities for adventurous play," she said. 
"This is really positive because play is free, instinctive and rewarding for children, available to everyone, and doesn't require special skills."
Countering effects of COVID-19 lockdowns
The researchers came to their conclusions after surveying 2,500 parents about their young children's play activities, mental health before the COVID-19 pandemic, and mood during the first COVID-19 lockdown.
The team found that children who were able to spend more time playing adventurously outside had fewer problems linked to anxiety and depression and a more positive outlook during the first lockdown. The team said these results were consistent across a range of factors like age, sex, and family finances.
"This important research shows that this is even more vital to help children thrive after all they have missed out on during the Covid-19 restrictions. More play means more happiness and less anxiety and depression," said Dan Paskins, the director of the UK Impact at Save the Children.
What is adventurous play?
The researchers point out that there are several activities that children can engage in that qualify as "adventurous play." Some of them include:
Camping out overnight;
Swimming or paddling in a river or lake;
Jumping from a swing;
Creating obstacle courses inside or outside; and 
Exploring woods alone or with a friend.
"This research emphasises the importance of adventurous play. Children and young people need freedom and opportunities to encounter challenge and risk in their everyday playful adventures," said Jacqueline O'Loughlin, CEO or PlayBoard NI. 
"It is clear from the research findings that playing, taking risks and experiencing excitement outdoors makes a positive contribution to children's mental health and emotional well-being. The rewards of allowing children to self-regulate and manage challenge in their play are widespread and far-reaching. Adventurous play helps children to build the resilience needed to cope with, and manage stress in challenging circumstances."
The full study has been published in the journal Child Psychiatry & Human Development.