---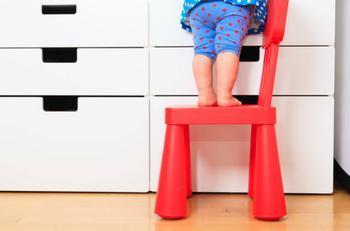 Many young children are adept at finding trouble around the house. There's often no predicting where kids' curiosity will lead them, but parents can try to make sure their home is safe at every turn.
But even if you've padded sharp corners and installed childproof locks on the kitchen cabinets, your home may still be unsafe for kids. Parents overlook a number of hidden household hazards, experts say.
Windows and window coverings may pose an especially big risk to children. In fact, corded window coverings are among the top five hidden hazards in American homes, according to the Consumer Product Safety Commission (CPSC).
Kids may become entangled in window covering cords, but parents and caregivers can prevent accidents like this from happening by making one important change.
Go cordless
In homes with young children, safety advocates say cordless window coverings (or those with inaccessible cords) are the way to go.
Instead of using window blinds and corded shades, the Window Covering Safety Council recommends using cordless products. (Bonus points if they come with a Best for Kids label certification.)
In addition to preventing accidental entanglement by swapping corded window coverings for cordless coverings, parents may also want to address the following child safety hazards.
Other hidden hazards
Accidents are bound to happen in homes with toddlers and young children, but not every potential accident will be as innocuous as spilled juice. To keep kids safe, parents should watch out for the following hazards.
Plants. Certain common plants may be dangerous if ingested. Plants that should be kept off limits to kids include: Lily of the Valley, Hydrangea, Rhododendron, Poinsettia, Purple Nightshade, Mountain Laurel, Mistletoe, and Water Hemlock.
Vehicles. Even on a temperate day, a parked car isn't a safe place for kids to play. Temperatures inside a vehicle can rise 30 to 40 degrees in an hour, according to WebMD. Parents should keep vehicles locked and keys hidden from children.
Open windows. Letting a cool breeze circulate throughout your home may be pleasant, but having the windows open can be dangerous in homes with children. Opening windows from the top instead of the bottom can help prevent falling accidents. Additionally, parents can install window guards and stoppers.
Non-anchored furniture. Unsecured furniture and TVs also made the CPSC's list of top five hidden hazards in the home. To prevent tip-over accidents, parents should anchor tall, heavy furniture that is capable of tipping.
Hot playground equipment. When your backyard playset isn't in use, the sun may be beating down on its slides, swings, and other equipment. Before letting kids play, parents should check equipment to make sure it won't cause burns.  
---