---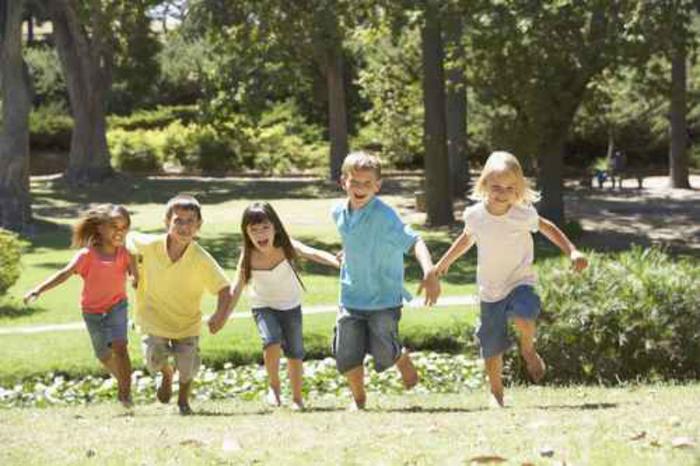 Concerns about childhood obesity usually come down to questions of diet and exercise. In recent months, health experts have placed the greater emphasis on diet, pointing out that limiting calories is more effective than trying to work off pounds.
Still, exercise can't be overlooked. Beyond weight control, it contributes to overall health – especially for growing bodies.
And it's still a fact that in the 21st century, lifestyles have become more sedentary for children, who spend more of their times engaged with electronic devices.
The National Football League has partnered with First Lady Michelle Obama in a "Play 60" campaign, urging every child to get in at least 60 minutes of outdoor, active play every day. Yet researchers at Cincinnati Children's Hospital Medical Center  report only three in 10 children in pre-school child care had at least 60 minutes each day for recess, as guidelines recommend.
Missed opportunities
"These opportunities may be especially important for children who lack opportunities to be active at home," said Kristen Copeland, MD, a researcher in the Division of General and Community Pediatrics and senior author of the study. "That's why what happens in the child care centers has important and lasting effects for children's total daily levels of activity."
When the researchers studied 380 children, ranging in age from 3 to 6 years old, enrolled at 30 different child care centers from November 2009 through January 2011, they were disappointed in what they saw.
Ninety percent of those centers reported scheduling two or more outdoor sessions each day, yet only 40% of children had fully taken part. Thirty-two percent had no time outdoors.
But the study also found that the child care centers played a key role in whether children were active or sedentary. If the center provided the opportunity for at least an hour a day of outdoor play, the children enrolled there were more active over a 24-hour period than children attending centers that didn't schedule at least 60 minutes of outdoor activity.
Essential activity
"We know daily physical activity is essential for children's growth and development," Copeland said. "It improves cardiovascular and bone health and has been linked to improved mood, attention, and cognitive performance. Yet, few preschoolers are meeting daily physical activity recommendations of 60 minutes or more per day."
Copeland acknowledges that child care centers in areas of inclement seasonal weather face a special hardship in meeting the guidelines. These centers, she says, should make better use of indoor spaces and encourage teachers to take children outdoors briefly on cold days.
---