---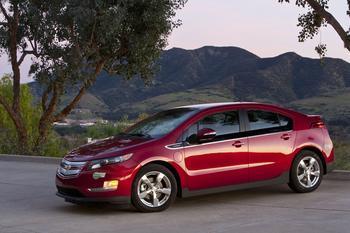 Maybe Chevy Volt owners think they're making a political statement or maybe they just like the idea of not buying much gasoline. But the car is drawing a harsh backlash from political conservatives.
Volt owners have reported to automotive Website Edmunds.com they've been drawn into spontaneous arguments over the car with friends and strangers alike. At times, they says, passions boil over and things can get scary.
"Some have reported acts of vandalism, like slashed tires or expletives on the windshield," said Edmunds.com Community Manager Mark Holthoff, who sought out and spoke with several Volt owners. "One even found himself being intentionally run off the road."
But Volt owners are happy
But those are extreme examples of the blowback, and most Volt owners are especially proud of their cars. In fact, last month the Volt topped Consumer Reports' annual owner satisfaction survey for the second straight year.
"Pretty much all of the Volt's critics are people who have never been near one," said one Volt owner. "My mother-in-law's first reaction [to the Volt] was to prohibit me from plugging it in at her house. But she has come around."
"I was at a stoplight next to another Volt driver," said another owner, "and we both rolled our windows down and chatted for a few seconds about how much we love our cars and what our mileage was."
Election made things worse
The Volt has been a political football since even before the first models rolled off the assembly line, but it's especially been a hot button in this most recent election cycle. Liberals hold up the car as an example of building better green technology and a resurgent American auto industry.
Conservatives, meanwhile, point to the car as a symbol of wasteful government spending, saying the government subsidizes each Volt that sells for $40,000 with another $49,000 tax dollars. Naturally, GM would like to sell volts to conservatives as well as liberals.
It recently hired a conservative consultant to help sell the Volt to his fellow conservatives. He points out that because the Volt runs on electricity, it's really being fueled by coal and natural gas. In other words, it's not just a car for liberals.
Maybe that argument is working. According to Edmunds, the car most often traded in on a Volt is the Toyota Prius -- no surprise there. But the next two models on the list are a little surprising; the BMW 3 Series, a sporty European car, and the Chevrolet Silverado, a full-size pickup.
---