---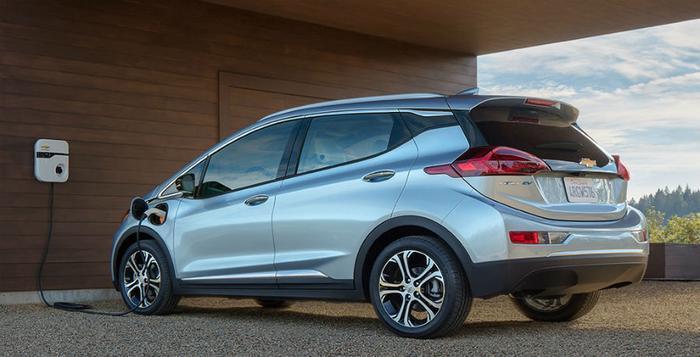 Electric cars are perfect for consumers who want to distance themselves from the up-and-down market for gasoline. But one of the main concerns with these vehicles has always been how far someone can take them before needing to stop and recharge.
Now, a new announcement by GM may put those worries to rest. The automaker has announced that its Chevy Bolt EV, scheduled for release later this year, will be able to go 238 miles on a full charge, according to EPA-certified estimates. The estimate would make the Bolt the first-ever electric vehicle sold in the U.S. to have a range over 200 miles.
Additionally, GM has said that its European version, called the Ampera-e, will have a range of 249 miles, or 401 kilometers. However, the mileage is strictly a matter of different testing standards; the Ampera-e will be made with the same propulsion system as the Bolt.
"Game-changer"
In addition to the high range, the new Bolt will also reportedly come at a price that won't break consumers' banks. GM has stated that the vehicle will sell for under $37,500, but consumers who take advantage of federal and state tax credits can lower the cost to around $30,000.
The company hasn't yet said where the Bolt will be sold, saying only that it will be available at "select" Chevrolet dealerships in late 2016.
"Chevrolet showed the world the production version Bolt EV earlier this year and in a few short months we've moved from that vision to a reality. The Bolt EV is a game changer for the electric car segment and it will start to become available at Chevrolet dealerships later this year," said Alan Batey, President of GM North America, in a statement.
Tesla competition
Proponents of the Bolt point out that the 238-mile estimate actually puts the vehicle ahead of Tesla's Model 3, which will debut in 2018 with an estimated 215-mile range. It also outclasses the Model S 60, which has the same size battery but only has a range of 208 miles and costs $71,000.
Consumers shouldn't take the current range statistics for Tesla's Model 3 as gospel, though. It is important to note that this vehicle has not yet been EPA-certified. In fact, CEO Elon Musk has said that the 215-mile projection uses "minimum numbers."
However, consumers may look at the lower price-point of the Bolt and see an opportunity to grab an environmentally-friendly, economical car that is affordable both to buy and to drive. 
---