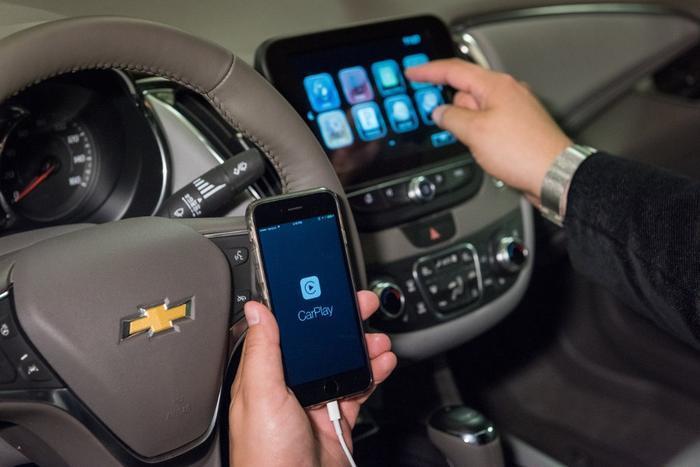 General Motors (GM) isn't taking sides. Whether you have an iPhone or an Android device, it will offer a way to integrate the phone with the vehicle on 14 2016 Chevrolet models.
The two systems are similar, in that they mimic the smartphone's screen on the car's dashboard display, giving drivers a way to control maps, music and texts using voice or finger tip steering wheel controls.
Apple CarPlay will not display text messages on the dashboard screen. Instead, it will deploy Siri to read the text aloud.
GM's move, along with Hyundai's announcement earlier this week that it's making Android Auto compatible with the 2015 Sonota's infotainment system, appears to be an emerging automotive trend.
Essential smartphones
"For most of us, our smartphones are essential," said Mary Barra, CEO of General Motors. "Partnering with Apple and Google to offer CarPlay and Android Auto compatibility across the widest range of models in the industry is a great example of how Chevrolet continues to democratize technology that's important to our customers."
The 14 Chevrolet models getting the smartphone integration include the new 2016 Cruze compact, which will debut on June 24. Cruze is Chevy's best-selling passenger car, with more than 3 million sold since launch.
The other models include the Spark, Cruze, Malibu, Camaro, Camaro convertible, Silverado and Silverado HD, all equiped with the 7-inch MyLink infotainment system.
Compatible models equipped with the 8-inch MyLink system include the Cruze, Malibu, Impala, Volt, Camaro, Camaro convertible, Corvette, Corvette convertible, Colorado, Silverado, Silverado HD and Tahoe.
The 7-inch MyLink infotainment system will sync up with both Android Auto and Apple CarPlay. However, the 8-inch version will be compatible only with Apple CarPlay at the beginning of the 2016 model year. GM says compatibility with Android Auto may be available later in the year.
Most-used features
GM says both systems will emphasize the features on the phones that drivers use the most. Android Auto is built around Google Maps, Google Now and the ability to talk to Google, as well as a growing audio and messaging app ecosystem that includes WhatsApp, Skype, Google Play Music, Spotify, and podcast players.
Apple CarPlay transfers the iPhone features you'd mostly likely want to access while behind the wheel but, for safety reasons, shouldn't. By placing them on the dashboard screen drivers will be able to make calls, send and receive messages and listen to music using the touchscreen or by voice via Siri.
GM points out that many smartphone features can be controlled using voice commands helping to promote safety. However, not all safety advocates are convinced that there is any safe way to use a smartphone while driving.
How safe?
"Even though your car may be configured to support social media, texting and phone calls, it doesn't mean it is safe to do so," University of Utah psychology professor David Strayer said after reviewing a number of studies last year. "The primary task should be driving. Things that take your attention away make you a poor driver and make the roads less safe."
Strayer and other researchers analyzed studies of new infotainment systems to determine if they reduce distracted driving or added to it.
Strayer said one study found that using your voice to make phone calls and tune the radio with Chevrolet's MyLink system distracted drivers the most. Mercedes' COMMAND system, MyFord Touch and Chrysler's UConnect were better, but all diverted attention more than a cell phone conversation, the study found.