---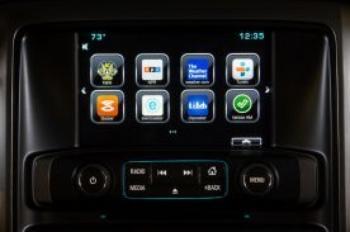 Chevrolet buyers will get a standard package of 4G LTE cellular capabilities in 2015 models including the Corvette, Impala, Malibu and Volt, with more models being added in later years.
General Motors made the announcement at the International CES show in Las Vegas. It said the hardware will be standard but pricing for bandwidth has not yet been released.
The built-in 4G means that consumers will be able to listen to Internet radio, surf the Web and use email and voice communication apps without burning through the monthly bandwidth quota on their smartphones -- and without having to fiddle with their phones while driving.
"Chevrolet AppShop" -- as it's called -- will allow owners to view all available apps and download them directly to the vehicle, then organize, update or delete them. Available apps will connect drivers to music, news, weather, travel information, vehicle data and more.
"We listen to our customers, and they want more choices like they have with their smartphones," said Alan Batey, senior vice president of Global Chevrolet. "They're telling us they want more integration, more options, and more control in a safe manner. Chevrolet AppShop is an in-vehicle information resource that allows our drivers to customize and refine their experiences from their Chevrolet."
Seamless connection
A seamless data connection for Chevrolet AppShop will be offered with the brand's broad deployment of high-speed 4G LTE connectivity through OnStar, General Motors' telematics service that has provided wireless connections to vehicles for more than 17 years. \
"At General Motors, we are trying to minimize driver distractions through the use of technology," said Phil Abram, chief infotainment officer, GM Global Connected Consumer. "In addition to AppShop, Chevrolet offers features like text-to-voice and smartphone voice pass-through integration to create a safer driving environment."
Apps being planned include:
iHeartRadio (U.S. Only): Offers instant access to more than 1,500 of the nation's most popular live radio stations from anywhere in the United States.
Priceline.com: Allows search, comparison, and booking of a hotel room.
The Weather Channel: Provides visual and audible weather information needed along a driver's route.
NPR: News, culture and humor from NPR and 900-plus public radio stations nationwide, including live broadcasts and more than 80 all-music streams.
Slacker Radio: Handcrafted internet radio service with more than 13 million songs, plus news, sports, comedy and weather.
---