---
Gas, electric, hybrid and diesel -- the choices for American motorists just keep rolling along. The latest new option is the 2014 Chevrolet Cruze diesel, making its bow at the Chicago Auto Show today.
The clean-diesel Cruze is expected to get about 42 miles per gallon on the highway. It's perhaps shooting for the same market niche as the Volkswagen Golf TDI, rated at 49 mpg, and other small VWs.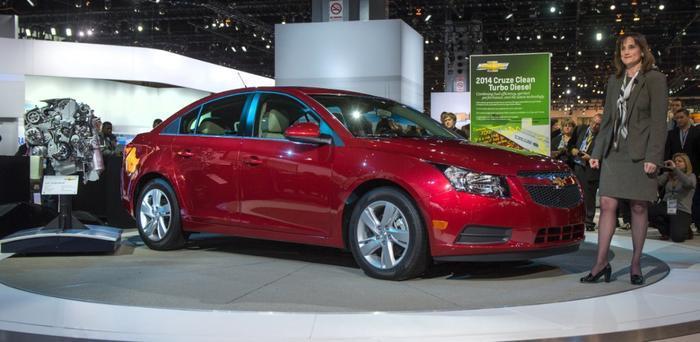 The Cruze will be the first GM passenger-car diesel since the 1980s, when the company turned out a batch of noisy, slow, smelly engines that succeeded only in souring American drivers on diesel for another generation or so.
The Cruze has a 2.0-liter turbo churning away under its hood and generates a torque rating approaching the Camaro. This is one thing European drivers have known that Americans are just finding out -- diesels are fast off the line.
VW has had the American diesel market pretty much to itself, offering its clean TDI in the Jetta, Passat, Beetle and Golf. Last year, 20 percent of U.S. Jetta sales were diesel versions, the company said.
GM says it's confident it can compete head-to-head with the VWs, although the German carmaker has decades more experience and a head-start in the U.S.
The compact sedan's new 2.0L turbo-diesel engine produces estimated 148 horsepower and estimated 258 lb-ft torque with 0-60 performance of 8.6 seconds, which GM says is better than the Volkswagen Jetta TDI automatic and competitive with German diesel cars that dominate the U.S. market.
"Chevrolet has a diverse portfolio of products and technologies to meet the needs of the most discerning customer, whether it's driving across town gas free in a Spark EV or cross-country in a clean turbo diesel," said Chris Perry, Chevrolet vice president of marketing.
GM is not exactly a newcomer to diesels. The diesel engine being used in the Cruze is already widely used in Europe, where it powers the Opel Astra, Insignia and Zafira.
"Cruze Clean Turbo Diesel fills an important role in Chevrolet's diverse four-cylinder lineup, and is primed to win over diesel devotees and compact car buyers with its performance, torque and fuel economy," said Perry. "We leveraged engineering expertise from around the globe to develop a world-class, low-emissions engine to give U.S. and Canadian customers a car that's both fun to drive and practical at the pump."
---