---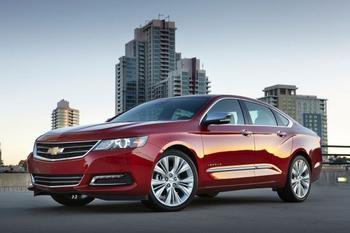 The Chevrolet Impala has returned from oblivion to take top spot in Consumer Reports magazine's sedan rankings, beating our Japanese and European models for the first time in a generation.
The revamped 2014 Impala has gone from the bottom of its class in Consumer Reports ratings, with a mediocre test score of 63 — too low to be CR Recommended — to an "Excellent" 95 that places it not only at the top of its "Large Sedan" category, but also among the top-rated vehicles Consumer Reports has tested.
Only two vehicles have a higher test score; the Tesla Model S hatchback and the BMW 135i coupe. Overall, Consumer Reports found the Impala is competitive with cars that cost $20,000 more, including the Audi A6 and Lexus LS460L, as well as the recently reviewed Acura RLX and Jaguar XF.
It's been a good couple of weeks for the Impala, which won a five-star safety rating earlier this mont.
"The Impala's performance is one more indicator of an emerging domestic renaissance," said Jake Fisher, director of Consumer Reports automotive testing. "We've seen a number of redesigned American models — including the Chrysler 300, Ford Escape and Fusion, and Jeep Grand Cherokee — deliver world-class performance in our tests."
Consumer Reports engineers found the Impala "rides like a luxury sedan, with a cushy and controlled demeanor, while delivering surprisingly agile handling, capable acceleration, and excellent braking."
The reviewers said the Impala "corners quite well for a large car, with prompt turn-in response and controlled body lean." Steering is nicely weighted; it's light enough for parking maneuvers and provides decent feedback. When pushed to its handling limits, the Impala proved secure, responsive, balanced, and easy to control, they added.
Safety features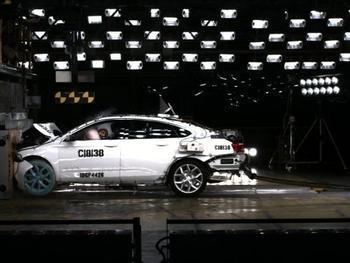 The top safety rating came as part of the National Highway Traffic Safety Administration's New Car Assessment Program.
"Safety is a key consideration for all car buyers, and Impala sets a new benchmark for Chevrolet's flagship sedan," said Gay Kent, GM general director of Vehicle Safety and Crashworthiness. "The 2014 Chevrolet Impala is designed to provide excellent crash safety, and offers customers several safety technologies not previously available in Chevrolets."
It employs advanced technologies – including radar – to help avoid crashes. Visual and audible alerts, depending on the alert feature, help drivers identify potential crash situations and even intervene when a crash threat appears more imminent. The alerts are designed to identify potential threats with sufficient warning to give the driver time to react and make changes.
No reliability data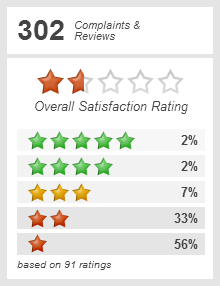 Despite its high test score, Consumer Reports said the 2014 Impala is too new to have reliability data, so it can't be "Recommended." To be Recommended, a vehicle must perform well in CR's battery of tests, have average or better reliability in CR's Annual Auto Survey, and perform well in government and industry crash tests.
Complete tests results for the Impala, Acura RLX and Jaguar XF, Hyundai Santa Fe, and Kia Sorrento, appear on www.ConsumerReports.org today, and in the September issue of Consumer Reports, on newsstands August 1. Updated daily, ConsumerReports.org is the go-to Website for the latest auto reviews, product news, blogs on breaking news, and car-buying information. Check out CR's ongoing Twitter feed at @CRCars.
---