---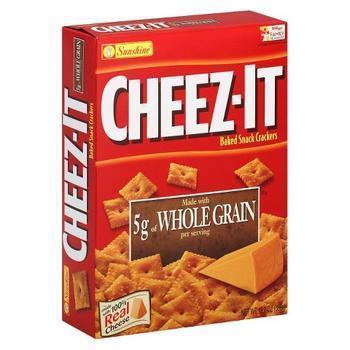 Cheez-It Whole Grain crackers have only one gram of dietary fiber in a 30-gram serving, a lawsuit filed in U.S. District Court in New York today alleges. 
"Consumers are seeking out whole grain foods, and expect that when they see the words 'whole grain' on the package that whole grain is the main ingredient," said Maia Kats, litigation director of the Center for Science in the Public Interest (CSPI). "Kellogg's Whole Grain Cheez-Its have more white flour than whole grain. It's effectively a junk food, and Kellogg is taking financial advantage of consumers who are trying to make better decisions for their health."
Kellogg says the suit is nonsense.
"While we don't normally comment on pending litigation, this suit is completely without merit. Our Cheez-It Whole Grain labels are accurate and in full compliance with FDA regulations. We stand behind our foods and our labels," Kris Charles, Kellogg Company spokesperson, said in an email.
"Nearly identical"
The lawsuit says the "whole grain" crackers are nearly identical nutritionally to the original version of Cheez-Its, which contain "less than one gram" of fiber.
"The words "WHOLE GRAIN," or in some cases, "MADE WITH WHOLE GRAIN" appear prominently on five of the six package panels, including the front of the box, known as the principal display panel. In small print on the front of the box, Kellogg states that the product has just 5 grams of whole grain per serving; some boxes state that the product has 8 grams. The Dietary Guidelines for Americans recommends that at least half of the grains people eat be whole grains. Less than half the grains in both versions of Whole Grain Cheez-Its are whole," CSPI said.
The lawsuit seeks an injunction barring Kellogg from "continuing to engage in deceptive marketing."
Earlier this year, CSPI sued General Mills over its marketing of Cheerios Protein, saying the cereal has only negligibly more protein than original Cheerios but has 17 times as much sugar. That case is pending.
---