---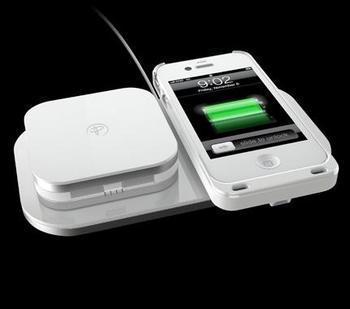 From the time people started using cellphones, keeping the battery charged has been a challenge. It got worse a few years ago when smartphones flooded the market.
It turns out data usage -- sending and receiving email, accessing the Internet and using apps -- drains a cellphone battery much faster that making a phone call. And not all data usage is created equal.
When Apple updated the iPhone's operating system last year, a number of users found their batteries drained even faster than usual in the iPhone 4 and 4S. In a recent study, Purdue University computer scientist Abhinav Pathak found that apps you can download for free tend to drain batteries faster than those you pay for. The ads gobble up energy by tracking user habits and running other tasks in the background.
Regardless of the reason for battery drain, manufacturers are not only working on ways to extend battery life but make it easier and faster to recharge them.
Wireless charging
In the meantime, a number of manufacturers have devices that can charge your phone without having to plug it in. All you do is place it on a pad that's plugged into an outlet.
Many of the devices use the Qi wireless charging standard, backed by Energizer. It works through magnetic induction, allowing power to be transferred from a charging mat or even a speaker dock to a smartphone's battery.
Battery maker Duracell got into the act last year with its PMA system, teaming with AT&T, Google and Starbucks, working to create an "ecosystem" of wireless power. It also uses inductive charging and, besides consumer products, is working to install these wireless charging pads in public spaces. Delta Airlines recently installed PMA-compatible Wireless Charging Spots in lounges and gates in a number of airports.
So as wireless technology continues to evolve, both the PMA and Qi systems will compete for dominance.
Monster Watts, a producer of power accessories for both Apple and Samsung phones, has just introduced three wireless chargers for the Samsung Galaxy S3. The Stealth wireless receiver is ultra-thin and fits under the S3 existing back cover.
The Simple wireless receiver back cover and charger set has a similar install process. The company says it adds only about 1 mm to the thickness, and will fit into most standard flexible cases.
Charging on the go
The Super Pack model is an external case with a built-in wireless receiver and rechargeable back up battery. The S3 slides into it and charges wirelessly. Gavin Carter, media coordinator for Monster Watts, says the Super Pack is about as close as you can get to wireless charging on the go.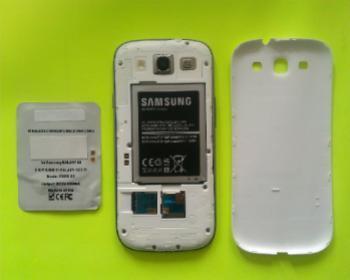 "We actually have sold thousands of cases with built-in rechargeable battery packs that charge Apple iPhones and Samsung S3 on the go," Carter said. "They are recharged via a micro USB port. However, for something to charge using the Qi technology standard, the transmitter would have to connected to an outlet. We did sample a Qi standard transmitter charging pad with a built-in battery pack but it felt too heavy and cost too much."
Carter says the current systems require the transmitter and receiver to be touching, or almost touching, so the day you can charge your phone by walking through an airport or shopping in a mall is not here yet.
But the current crop of wireless charges make it faster and easier to keep your smartphone running. Monster Watts' three new offerings start at $68 and go to $118.
Hedging its bets
Google, meanwhile, is hedging its bets. The latest Nexus 4 phone from LG comes standard with Qi wireless charging. A number of technology sites are reporting that new phones from Samsung and Apple this year will include wireless charging.
Of course, what consumers would really like is a cell phone battery that lasts longer. Work is underway in that area too. Two years ago researchers at the University of Michigan invented what they call a "subconscious mode" for smartphones and other Wi-Fi-enabled mobile devices that could extend battery life by as much as 54 percent for users on the busiest networks. The product, however, is not yet commercially available.
---