---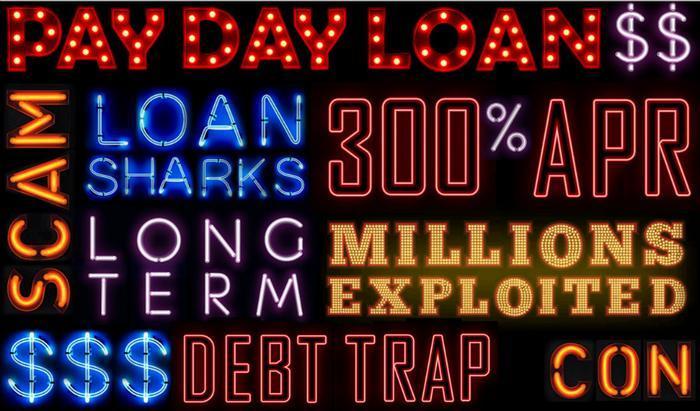 Flying in the face of determined and well-heeled opponents, the Consumer Financial Protection Bureau (CFPB) is proposing a new rule aimed at protecting cash-strapped consumers from falling into endless cycles of payday loan debt.  Put simply, the rule would require short-term lenders to be sure consumers will be able to pay back the loans they take out.
It sounds pretty basic, but consumers often end up paying hundreds or even thousands of dollars in interest when they're not able to pay back their payday loans on time. Also, they frequently wind up with huge bank charges when their accounts go into overdraft as lenders repeatedly debit their accounts, a practice that would be prohibited under the new rule. 
A recent study by the CFPB found that half of all the borrowers studied were charged an average of $185 in bank fees, usually for overdrafts or insufficient funds. That's in addition to the sky-high interest rates -- often reaching 390 percent.
 "Too many borrowers seeking a short-term cash fix are saddled with loans they cannot afford and sink into long-term debt," said CFPB Director Richard Cordray. "It's much like getting into a taxi just to ride across town and finding yourself stuck in a ruinously expensive cross-country journey. By putting in place mainstream, common-sense lending standards, our proposal would prevent lenders from succeeding by setting up borrowers to fail."
Besides payday loans, the rule would cover auto title, deposit-advance loans, and other high-cost installment and open-end loans. The CFPB is also launching an inquiry into other products and practices that may harm consumers facing cash shortfalls. 
Who could argue?
Who could be against such a rule? You might be surprised.
As we reported a few days ago, Rep. Debbie Wasserman Schultz (D-Fla.), the Democratic National Committee chairwoman, is among nine Democrats co-sponsoring a bill that would prohibit the CFPB from regulating payday lenders in states that have their own laws in place.
Allied Progress, the liberal advocacy group that "outed" Wasserman Schultz, says many other Congressional representatives are in the pocket of payday loan interests.
"Payday lenders have spent millions of dollars currying favor with powerful Washington politicians and they will do whatever it takes to keep this extremely lucrative predatory racket humming along," said Karl Frisch, the group's director. 
"It's time for our Representatives in Congress to speak up and let us know where they stand," Frisch said. "Do they support the CFPB's proposed rule, or not? Will they champion the needs of their constituents and those caught in the payday lending debt trap or that of the predatory lenders who fill many of their campaign bank accounts?"
Frisch's organization is one of hundreds collecting consumer comments for submission to the CFPB on a special website, StopPaydayPredators.org.
Not far enough
The Pew Charitable Trusts also opposes the measure, but for different reasons. It says it doesn't go far enough.
"Payday loan reform is urgently needed, but without changes, the CFPB's draft regulation misses the mark. Pew's research shows that borrowers want three things: lower prices, manageable installment payments, and quick loan approval. The CFPB proposal goes 0 for 3," said Nick Bourke, director of Pew's small-dollar loans project.
"The rule will help by pushing lenders to make installment loans instead of requiring full payment at the next payday. That will represent a major improvement, but it is not enough to make these loans safe. A $400 payday installment loan, for example, will still cost a typical borrower more than $350 in fees."
Bourke said the CFPB is "missing an historic opportunity to save millions of borrowers billions of dollars." He said banks would offer more affordable loans if given a clear product safety standard.
"There is still time for the CFPB to fix the proposal," Bourke said. "The agency needs to ensure that the final rule includes clear product safety standards, such as limiting each installment loan payment to five percent of a borrower's paycheck and giving borrowers up to six months to repay. These are the two essential safeguards that research shows are needed in the small-dollar loan market."
Repayment in full
The problem with payday loans -- beyond the high interest rates, fees, and risks of overdrafts -- is that they generally require repayment in full in just a week or two, usually on the borrower's next payday, instead of setting up a schedule of smaller payments over time.
Consumers facing a cash emergency today are not usually going to be in better shape in a week or two, forcing them to take out yet another short-term loan, starting a cycle that seldom ends well.
Also opposing the rule, not surprisingly, are payday lenders.
"The CFPB's proposed rule presents a staggering blow to consumers as it will cut off access to credit for millions of Americans who use small-dollar loans to manage a budget shortfall or unexpected expense," said Dennis Shaul, CEO of the Community Financial Services Association of America (CFSA), a payday loan industry group.
"By the bureau's own estimates this rule will eliminate 84 percent of loan volume thereby creating financial havoc in communities across the country. Thousands of lenders, especially small businesses, will be forced to shutter their doors, lay off employees, and leave communities that already have too few options for financial services," Saul said.
The proposal will become effective in aobut 90 days. The full text is available online.
---