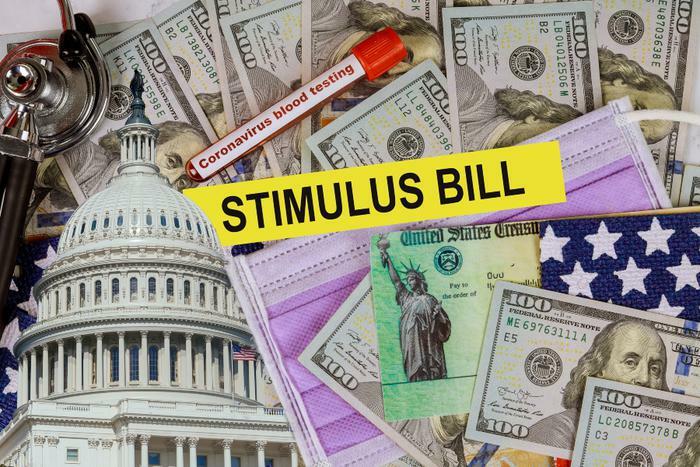 The Consumer Financial Protection Bureau (CFPB) is trying to moderate a recently discovered loophole that allows debt collectors to take Economic Impact Payment (EIP) funds from consumers' bank accounts. On Wednesday, the agency said it was encouraging both creditors and financial institutions to allow the stimulus checks distributed through the American Rescue Plan to reach consumers before taking any over-the-top actions.
"The Consumer Financial Protection Bureau is squarely focused on addressing the impact of the COVID-19 pandemic on economically vulnerable consumers and is looking carefully at the stimulus payments that millions are now receiving through the American Rescue Plan," said CFPB Acting Director Dave Uejio. 
"The Bureau is concerned that some of those desperately needed funds will not reach consumers, and will instead be intercepted by financial institutions or debt collectors to cover overdraft fees, past-due debts, or other liabilities."
Financial institutions say they want to help consumers
Uejio said that his agency has had discussions with financial industry trade associations that want to work with consumers who are struggling during the pandemic. 
Many of those organizations went as far as saying that they have already begun -- or will soon begin -- taking proactive measures to make sure that consumers can access the full value of their stimulus payments. 
"If payments are seized, many financial institutions have pledged to promptly restore the funds to the people who should receive them, Uejio said.
Advice for consumers
The CFPB says consumers should monitor their bank accounts or use the IRS' Get My Payment tool to confirm that EIP funds have been deposited into their accounts. The agency has also launched a new consumer advisory that offers advice on the steps consumers can take if they believe their bank or credit union has withheld their stimulus payment to cover an overdrawn account balance. 
In overdrawn account balance situations, the CFPB says banks and credit unions may employ a variety of methods to ensure that their customers have access to the full value of their EIP funds.
Frequently, financial institutions have issued temporary provisional credits in the amount of the overdrawn account balance. However, it's important to note that provisional relief credit may only be temporary, and the credit might be taken back after a specified period of time. It's rare, but the CFPB says that some banks and credit unions have gone as far as permanently forgiving overdrawn account balances or issuing paper checks for the full EIP amount to consumers with overdrawn accounts. 
"If you think your bank or credit union will take or has taken a portion of your EIP to cover money you owe to the bank or credit union -- call them. If you legitimately do not owe the money, you should make them aware," advises the CFPB's Valentin Mihalache.
"Each financial institution has its own policies, but many are willing to work with customers who have been financially impacted by COVID-19. If they offer you a temporary credit, ask them to explain how it works and when you'll have to pay it back. You can use our guiding questions to talk to your bank or credit union about this issue."
Mihalache says consumers should also be aware of potential scams and avoid giving personal or banking information to unsolicited callers who claim to help with relief payments. Consumers can submit complaints to the CFPB online or by calling (855) 411-2372.