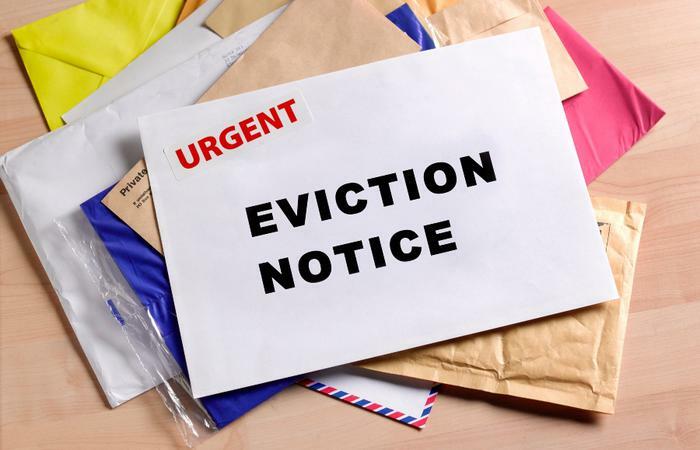 Renters who continue to be financially impacted by the COVID-19 pandemic have received some much-needed support. On Tuesday, the Consumer Financial Protection Bureau (CFPB) issued a new policy to strengthen the nationwide U.S. eviction moratorium.
The new rule requires debt collectors and attorneys who seek to evict tenants for nonpayment of rent to be provided with "clear and conspicuous written notice" of what their rights are under the eviction moratorium created by the Centers for Disease Control and Prevention (CDC). That notice has to be delivered at the same time as the eviction notice or, in cases where no eviction notice is required by law, on the date that the eviction action is filed.
Debt collectors are also responsible for adequately informing the tenant. They must provide the notice in writing — phone calls, text messages, or emails are not sufficient. 
Debt collectors must inform consumers about protections
The CFPB says debt collectors who fail to meet the new standard will be in violation of the Fair Debt Collection Practices Act (FDCPA). That act provides a private right of action against debt collectors, and violators can be held liable for actual damages, statutory damages, and attorney's fees. 
The CFPB's rule does not preempt more protective state laws, so debt collectors may also need to provide additional notices to consumers living in states and localities that have adopted their own eviction moratorium rules. 
The agency hopes the new rule will finally get the message across to property owners and their attorneys that they're looking at possible federal prosecution and consequences from state attorneys general if they violate the ban on evictions.
"With COVID-19 killing hundreds of Americans every day, kicking families out into the street during this pandemic may literally be a death sentence," said CFPB Acting Director Dave Uejio. "No one should be evicted from their home without understanding their rights, and we will hold accountable those debt collectors who move forward with illegal evictions. We encourage debt collectors to work with tenants and landlords to find solutions that work for everyone."
Failing to get the word out
CFPB officials hope the rule will also help ensure that consumers know about their temporary eviction protections. It should also stop debt collectors from misleading tenants about their eligibility for those protections. Just last month, the CDC extended its moratorium on evictions through June 30 in order to stem the spread of COVID-19. 
Based on informal outreach to consumer advocates and others, the Government Accountability Office (GAO) reported that the CDC had done a less than adequate job of making consumers aware of the moratorium and its requirements.
"As a result, some consumers who otherwise might be permitted to remain in their homes during the pendency of the CDC Order may be evicted because they fail to claim such protection or may choose to leave before being evicted (i.e., either before any eviction action is filed, or after an eviction action is filed but before any physical eviction takes place)," the CFPB said, adding that evictions can undermine public health by contributing to the spread of COVID-19. 
Need help?
Renters who are struggling to pay their rent due to the pandemic have additional resources they can turn to. At the top of the list is the Emergency Rental Assistance Program, which is run by the U.S. Treasury Department. The program provides assistance through state and local governments to help tenants catch up on missed payments to avoid eviction. 
Applicants must apply through their local programs, but the National Low Income Housing Coalition has a directory of state and local rental assistance programs that renters can use to find the right ones for them. 
Landlords aren't being left out when it comes to getting help. They may also be eligible for funds under the Emergency Rental Assistance Program.