---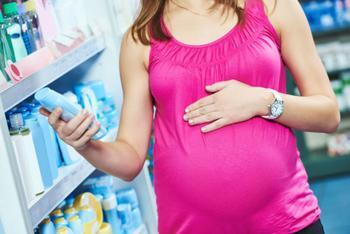 The list of foods, activities, and products to be avoided by expectant mothers may have just gotten a little longer. A new study finds that the use of certain personal care products during pregnancy may be linked to adverse effects in newborns.
The study, led by SUNY Downstate Medical Center's School of Public Health, cautions mothers-to-be that the use of some soaps and creams could lead to several negative reproductive effects.
"The study found a link between women with higher levels of butyl paraben, which is commonly used as a preservative in cosmetics, and the following birth outcomes: shorter gestational age at birth, decreased birth weight, and increased odds of preterm birth," said Laura Geer, PhD, MHS, associate professor in the Department of Environmental and Occupational Health Sciences in the School of Public Health at SUNY Downstate, in a statement.
Tricocarban and Propyl paraben
Tricocarban, which is an antimicrobial compound often added to soaps, was associated with shorter gestational age at birth. Propyl paraben, commonly added to creams and lotions, was linked to decreased body length at birth.
Dr. Geer states that the long-term consequences of using personal care products containing these ingredients are not yet clear. Further research is needed.
However, she notes that the study adds to, "the growing body of evidence showing that endocrine-disrupting compounds can lead to developmental and reproductive problems in animals and in humans." Previous studies observed animal models only.
Larger studies needed
The findings of this study provide evidence that the use of such endocrine-disrupting compounds can have adverse reproductive effects on humans as well as animals.
Larger follow-up studies will be needed to confirm these findings, but Dr. Geer says the new evidence justifies the need to reassess the safety in using these chemicals in our products.
While the changes in birth size and timing may not be large or provoke cause for concern in individual cases, Dr. Geer explains that even small shifts are worth examining. For the population as a whole, these subtle shifts can have "major impacts on the risk for adverse birth outcomes."
The European Union has had regulations requiring the removal of triclosan from personal care products in place since 2015. However, the U.S. Food and Drug Administration and the U.S. Environmental Protection Agency have not yet taken broader regulatory action.
Some U.S. manufacturers have voluntarily sought to remove triclosan from products. In Minnesota, a ban has been introduced on the use of triclosan in hand sanitizer and body cleaning products (effective beginning 2017).
---