---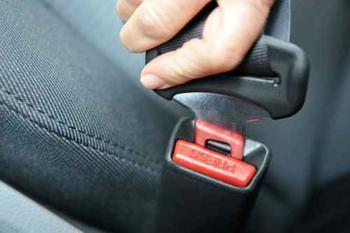 In November 1965 an obscure young lawyer named Ralph Nader published a book called "Unsafe At Any Speed." Specifically, it focused on the Chevrolet Corvair, but in general it was an indictment of the U.S. auto industry.
At the time, cost was the biggest factor guiding automotive design and production. Safety was not much of a concern. Cars were not even required to be equipped with seat belts.
But Nader's book struck a nerve with the public, and 10 months later President Lyndon Johnson signed the National Traffic and Motor Vehicle Safety Act into law. It created an agency that would become the National Highway Traffic Safety Administration (NHTSA), and not long afterward came the first auto safety recall.
There were 803 vehicle recalls in 2014, involving 63.9 million vehicles, including two of the largest vehicle recalls in history.
Mobilizing citizen power
This week in Washington, consumer advocates will celebrate Nader's book and the safety changes it helped usher in. In addition to Nader, speakers at a four day conference will include Phil Donahue, Patti Smith, Jim Hightower, Chris Hedges, Winona LaDuke, and several other citizen activists.
"The theme of this citizen mobilization will be discovering ways to break through power to secure long-overdue democratic solutions made possible by a new muscular civic nexus between local communities and Washington, D.C.," the Center for Study of Responsive Law, a sponsoring organization, said in a press release.
Over the four days at Constitution Hall, speakers will try to motivate existing civic groups to take steps that will make them more effective, using Nader's campaign for auto safety as inspiration.
When he signed the auto safety legislation nearly a half century ago, President Johnson noted that over the previous weekend, 29 American servicemen had died in Vietnam, while 614 Americans died on the nation's highways.
Deadlier than war
"In this century, more than 1.5 million of our fellow citizens have died on our streets and highways: nearly three times as many Americans as we have lost in all our wars," Johnson said. "Auto accidents are the biggest cause of death and injury among Americans under 35. And if our accident rate continues, one out of every two Americans can look forward to being injured by a car during his lifetime--one out of every two!"
The bill Johnson signed into law that day required all vehicles on U.S. roads, starting with 1968 models, to meet improved safety standards. It also improved tire standards and set up research and testing centers to investigate the causes of traffic accidents.
And what became of the Chevrolet Corvair? The car was in its second generation in 1966 when Johnson signed the traffic safety bill. Plans for a third generation were dropped and the car went out of production in 1969.
---