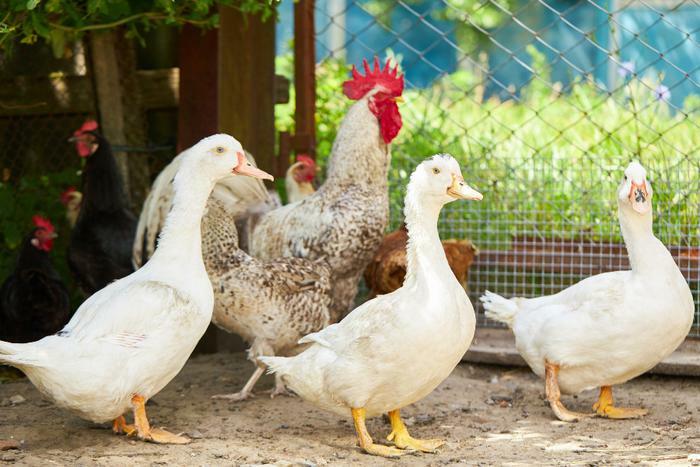 Public health officials and the Centers for Disease Control and Prevention (CDC) are taking a look into recent outbreaks of salmonella infections linked to backyard poultry.
To date, the CDC reports that 163 people in 43 U.S. states have reported becoming ill -- with 34 hospitalizations and no deaths so far. One-third of the reports are for children under the age of five. 
However, those numbers may be underplaying the situation. The CDC says the real number of people who have salmonella infections is likely much higher because either people recover without medical care or are not tested for salmonella at all.
One of the last major salmonella outbreaks linked to poultry happened in 2017, when 961 infections, 215 hospitalizations, and one death were reported.
Looking clean and healthy doesn't always mean clean and healthy
One of the biggest problems with raising chickens in your backyard is visually recognizing when a chicken -- or a duck -- is carrying salmonella. Salmonella germs can be on a bird even if they look healthy and clean. Those germs can easily spread in areas where they live and roam, so the likelihood of infection increases when people go to collect eggs or feed their birds.
The CDC says not recognizing a chicken that has salmonella is common, regardless of whether you are building your first coop or are a seasoned backyard poultry owner. The agency advises poultry owners that if they follow four simple rules of the roost, their likelihood of staying healthy increases exponentially.
After touching the flock or flock supplies, make sure you wash your hands for 20 seconds.

Keep both the chickens and their supplies outside the house to prevent spreading germs into your house.

Don't let anyone younger than 5 years old touch the birds (including chicks and ducklings) or anything in the area where the birds live and roam.

It may be cute to kiss or snuggle your birds, but make sure you don't bring them near your face. Doing that is a surefire way to spread germs to your mouth and make you sick.
TheHappyChickenCoop adds that washing the eggs taken from backyard poultry is a must. That's not because what's inside the shell might be contaminated; it's because harmful bacteria can get into the egg if a contaminated shell is cracked without being cleaned first.
Salmonella on the rise
While most of the attention media outlets have been giving the CDC relates to COVID-19, the agency has sent out three other alerts regarding salmonella poisonings in the last two months alone. 
Those include illnesses coming from three sources:
Most people recover from salmonella poisoning within four to seven days, and the CDC says most do so without treatment. However, for some people, the illness may be so severe that the patient requires hospitalization. Children younger than 5 years old, adults 65 and older, and people with weakened immune systems are the most likely groups to experience a severe illness.
If you have questions about cases in a particular state, the CDC advises that you call your state's health department. A complete list of those agencies is available here.