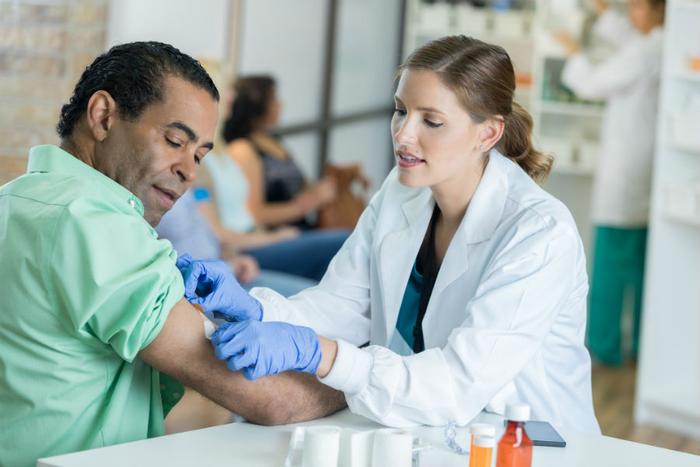 With autumn just ahead, the Centers for Disease Control and Prevention (CDC) is urging consumers to plan to get their flu vaccination early this year.
In the wake of last year's particularly severe flu season, health officials are stressing the importance of getting a flu shot in the hope that the 2018-2019 flu season won't be as deadly.
The CDC notes that 180 children died from the flu during last year's flu season; approximately 4 out of five of those children weren't vaccinated. The number of people hospitalized with flu symptoms topped 700,000 last season, CNBC reported.
"Influenza is a potentially serious disease that can lead to hospitalization and sometimes even death," the CDC said on its website.
While a flu shot does not make a person completely immune to the flu, a seasonal flu vaccine is the "best way to reduce your risk of getting sick with seasonal flu and spreading it to others," the CDC said.
"Vaccination has been shown to have many benefits including reducing the risk of flu illnesses, hospitalizations and even the risk of flu-related death in children," the agency said
While last year's flu vaccine was found to be only around 25 percent effective, this year's vaccine has been improved to "better match circulating viruses." The vaccine will be matched to four strains this year, including H3N2 (the dominant strain last year).
Get vaccinated early
The CDC recommends that everyone six months and older, especially people at high-risk for flu-related complications, get a yearly flu vaccine "preferably by the end of October." Those at high-risk include:
Children younger than 5, but especially children younger than 2 years old

Adults 65 years of age and older

Pregnant women (and women up to two weeks postpartum)

Residents of nursing homes and other long-term care facilities
Those two years or older (and under 49 years old) can receive a nasal spray called FluMist. Last year, the CDC did not recommend it over concerns that it was not as effective as the shot.
However, the American Academy of Pediatrics recommends that all eligible children receive a flu vaccine injection. The nasal spray vaccine can be used for children who would not otherwise receive the flu shot, the group said.
"For instance, if a child refuses the flu shot, or if the physician's office runs out of the injected vaccine, the nasal spray would be appropriate," the AAP said.