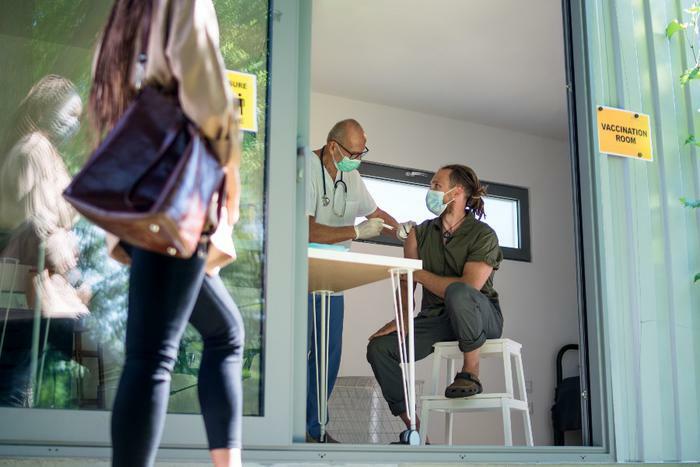 The U.S. Centers for Disease Control and Prevention said Sunday that half of American adults (50.4%) have now gotten at least one COVID-19 shot. 
The agency added that almost a third of adults are now fully inoculated against the virus. That percentage is likely to go up over the next few weeks now that President Biden has opened up vaccine eligibility to all Americans ages 18 and older. 
Vaccine acceptance also appears to be on the rise. A poll conducted in January by the Associated Press-NORC Center for Public Affairs found that 67% of Americans said they would be willing to get a COVID-19 vaccine. The latest AP-NORC poll found that 75% of Americans now feel willing to get vaccinated. 
Three vaccines have received emergency authorization in the U.S. Two vaccines -- one from Pfizer and BioNTech and one from Moderna -- require two shots, while Johnson & Johnson's requires one. Administration of the latter is currently paused while experts look into its link to a rare blood-clotting disorder. Dr. Anthony Fauci expects experts to deliver a decision on the vaccine by the end of this week. 
Regaining normalcy
Fauci has said that 70- 85% of Americans will need to be fully vaccinated before life can return to "normal." Health officials remain concerned about COVID-19 variants, but Fauci said that vaccinations are crucial to preventing mutations.   
"The only way a virus mutates (is) if it can replicate. So if you vaccinate people and double down on public health measures and keep the level of viral dynamics low we will not have an easy evolution into mutations," he said earlier this year. "That's something that people really need to understand."
"The way you stop those mutations: Get vaccinated and abide by the public health measures," Fauci said.