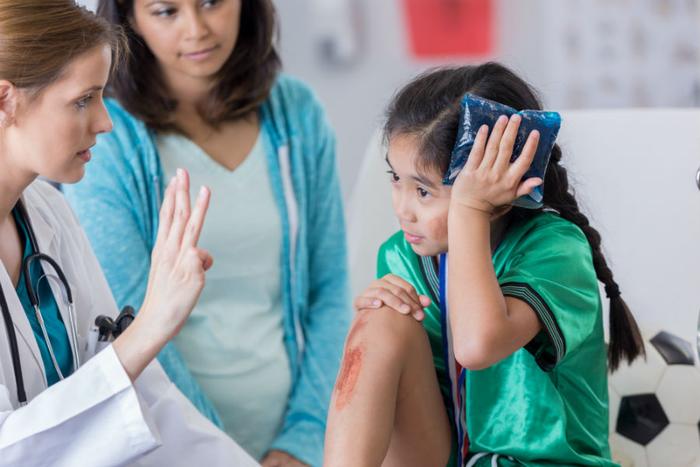 The Centers for Disease Control and Prevention (CDC) has released a set of recommendations for treating concussions in children. The new guidelines for doctors and families cover everything from diagnosis to treatment to when children should return to school.
Health officials say childhood concussions represent a "significant public health concern." Nearly 3 million children made emergency department visits for concussions between 2005 and 2009.
While most children recover within six weeks, the CDC says brain injuries of any kind have the potential to affect a child's development.
"In a subset of pediatric patients, postconcussive symptoms persist beyond 2 weeks and can continue for longer than 3 months," study authors noted in an editorial accompanying the new guidelines. "Pathophysiologic injury and symptoms (both acute and long-term) affect a child's ability to function physically, cognitively, and psychologically after mTBI."
Not minor
The new recommendations underscore the fact that concussions are a form of "mild traumatic brain injury" and, as such, should not be described as a minor head injury.
"In people's minds concussions are something minor. 'Oh you got your bell rung, oh it's okay,' but in reality what someone has suffered is an acute brain injury," Dr. Andrew Kiragu, the Medical Director of the Pediatric ICU at Hennepin Healthcare, told Fox 9.
Kiragu says parents and caregivers should heed the advice, "an ounce of prevention is better than a pound of cure." To help prevent injuries, parents should make sure children wear helmets and seat belts. Coaches and teachers should make sure they're using techniques that help protect children, Kiragu said.
Parent-specific resources for managing concussions in children, as well as preventing them, can be viewed here.
The new guidelines state that doctors should use age-appropriate symptom scales for diagnosis, assess risk factors for prolonged recovery, and counsel patients and caregivers to gradually return to school after no more than three days of rest (depending on symptoms).
The CDC said its new concussion management guidelines for children are based on the "most comprehensive review of the science" from the past 25 years related to mild traumatic brain injuries. The guidelines have been published online in the journal JAMA Pediatrics.