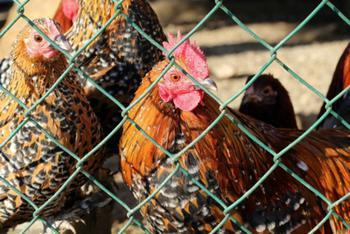 Back in June, the Centers for Disease Control and Prevention (CDC) issued a public warning that linked a string of eight Salmonella outbreaks to live poultry living in backyard flocks. Now, the agency is providing an update on its outbreak advisory.
To date, the CDC says that backyard flocks and exposure to live poultry have contributed to 10 separate multistate outbreaks of Salmonella infections, comprising 961 illnesses, 215 hospitalizations, and one death.
In interviews, the agency says that 498 of the 672 people (74%) who became sick reported contact with live poultry in the week leading up to the start of their illness. Many of these consumers said that nothing seemed wrong with the birds at the time, but the CDC says that visible symptoms aren't necessary for poultry to be carrying Salmonella bacteria.
"Contact with live poultry or their environment can make people sick with Salmonella infections. Live poultry can be carrying Salmonella bacteria but appear healthy and clean, with no sign of illness," the CDC said.
What to do
To help curb the number of infection cases, the CDC is offering advice to consumers with backyard flocks, mail-order hatcheries, and feed stores that sell or display live poultry. Below you can find a breakdown of that guidance.
Backyard flock owners should be sure to:
Wash their hands after handling any live poultry;
Not allow live chickens, ducks, or geese in the house, especially in the kitchen;
Not allow children under the age of 5 to handle or touch live poultry or eggs without supervision; and
Not eat or drink near birds or allow them near their face or mouth.
Mail-order hatcheries are urged to:
Provide health-related information to owners and potential purchasers before they buy any birds;
Put interventions in place to help prevent contamination and infection of poultry with Salmonella; and
Sign up to participate in the U.S. Salmonella Monitored Program, which certifies that flocks are monitored for Salmonella bacteria that may cause illness to consumers.
Feed stores that sell or display live poultry should:
Source the birds they sell from suppliers that have adopted the USDA's best management practices to mitigate Salmonella contamination;
Source the birds they sell from hatcheries which voluntarily participate in the U.S. Department of Agriculture's National Poultry Improvement Plan;
Provide health information to owners and potential purchasers before they buy any birds;
Place health information in clear view where birds are displayed;
Provide hand washing stations or hand sanitizer next to poultry display areas and remind customers to wash their hands right after leaving these areas;
Display poultry out of reach of customers, especially children; and
Clean the areas where birds are displayed between shipments of new birds.
For more comprehensive information on how to sign up for programs and data on previous outbreaks linked to backyard flocks and poultry, visit the CDC's site here.