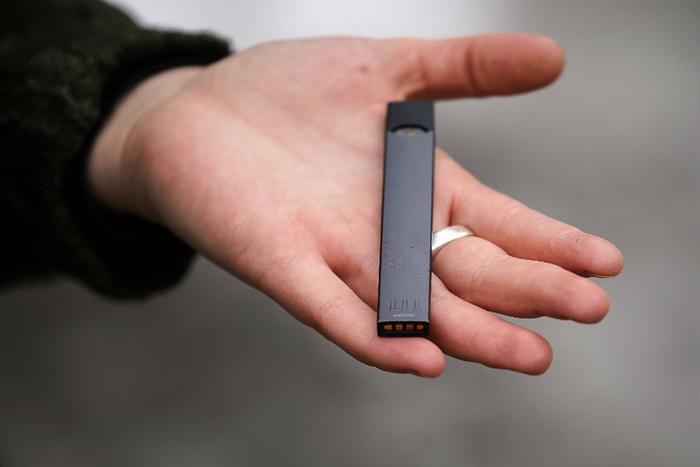 At an emergency hearing regarding the recent surge in vaping-related lung illnesses, a CDC official said that Juul -- the manufacturer of an e-cigarette product that is especially popular among teens -- uses potentially dangerous salts in its vaping devices. 
"Juul products use nicotine salts, which can lead to much more available nicotine," CDC Principal Deputy Director Dr. Anne Schuchat told the House Oversight and Reform Committee's panel on consumer products on Tuesday.
She added that doctors believe the salts allow nicotine to "cross the blood brain barrier and lead to potentially more effect on the developing brain in adolescents." 
High nicotine delivery
Last week, health officials said the number of illnesses associated with vaping has now climbed to 530. Since August, at least nine people in the U.S. have died following e-cigarette use. 
Amid escalating concern over the health impacts of the products, Juul has maintained that its sole mission is to serve as an "off-ramp" from smoking combustible cigarettes. 
Juul claims its nicotine salt formulation increases the rate and amount of nicotine delivered into the blood compared with other formulations. The formulation is intended to give users an experience similar to traditional cigarettes, which may help them quit. 
However, Schuchat said the nicotine salts could lead to higher quantities of nicotine being delivered. When used by teens, Juul's devices could give way to a unique set of problems.
"The devices are very easy to conceal, between the high levels of nicotine and discreet use, we think that the use among teens is particularly concerning," Schuchat said. She added that flavored e-cigarettes have been shown to appeal to youth users, which health officials and lawmakers have expressed concern about. 
"We really want to avoid another generation being addicted to nicotine so addressing flavors directly is a good idea," she said. 
Avoiding e-cigarette use recommended
Schuchat echoed the CDC's recent recommendation that consumers "consider not using e-cigarette products" while the investigation into the illnesses is ongoing. 
"We do not yet know the specific cause of these lung injuries," the CDC said in a recent advisory. "The investigation has not identified any specific e-cigarette or vaping product (devices, liquids, refill pods, and/or cartridges) or substance that is linked to all cases." 
Separately, the FDA is conducting an analysis of more than 150 vaping product samples in an effort to find a common thread behind the illnesses. 
"We are in desperate need of facts," Mitch Zeller, the agency's tobacco director said in a statement. Zeller said the focus of the investigation is to "identify what is making people sick, as well as a focus on the supply chain."