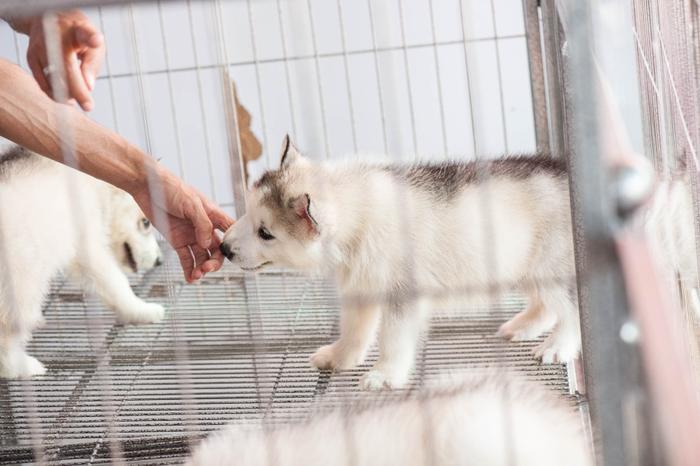 The Centers for Disease Control and Prevention (CDC) is warning consumers of an outbreak of a potentially drug-resistant bacteria that has been tied to puppies at pet stores. 
The agency says that 30 people from 13 states have been infected with a strain of Campylobacter jejuni, which is usually tied to cases of food poisoning. Interviews with infected individuals show that 88 percent of them had been in contact with a puppy. Of that number, 71 percent said their contact happened with a puppy from a pet store. 
Initial findings indicate that national pet store chain Petland is tied to the infections. Eighty percent of infected consumers who had contact with a puppy at a pet store said it was at a Petland location, and five of them were Petland employees. 
Symptoms of the infection can include diarrhea, fever, and stomach cramps, which can last for up to a week. It can take 2-5 days for symptoms to manifest. Consumers can take an antibiotic treatment to aid recovery, but the CDC says that is only necessary for consumers who are at high risk of infection and have a weakened immune system.
The CDC stated that an investigation into the outbreak is still ongoing and that it will provide more information as it becomes available. 
Pet owners beware
Consumers who may have bought a puppy for the holiday season are being advised to wash their hands thoroughly with soap and water after touching their pet, cleaning up after them, or handling pet food. 
Pet owners should also not let their puppy lick unprotected areas of open skin, including around the mouth or face. Consumers who are worried that their pet might be a source of infection should visit their veterinarian as a precautionary measure.
"Puppies and dogs can carry Campylobacter germs that can make people sick, even while appearing healthy and clean. People who own or come in contact with puppies or dogs should take steps to stay healthy around their pet," the CDC said.