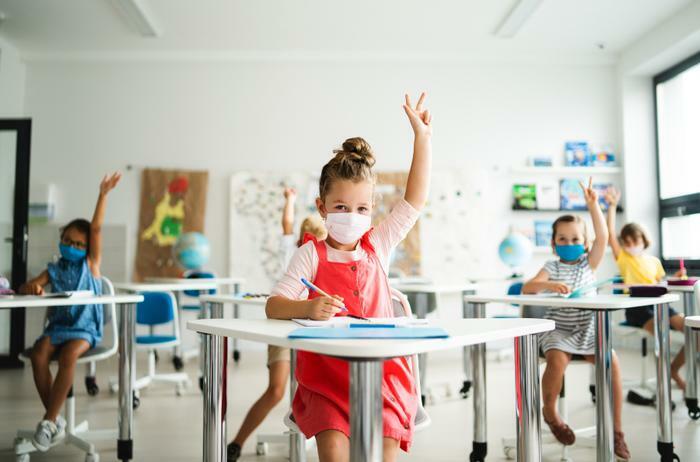 The Centers for Disease Control and Prevention (CDC) has given a return to school classrooms the green light. In an article in JAMA published on Tuesday, agency officials said a "preponderance of available evidence" shows that in-person learning can be carried out safely as long as students and teachers mask-up and maintain social distancing. 
The key word in the CDC's clearance is classrooms -- not gyms, group sports, or cafeterias. The agency said that school administrators must bridle activities that could be risky. 
"It's not going to be safe to have a pizza party with a group of students," Margaret Honein, a member of the C.D.C.'s COVID-19 emergency response team and one of the article's writers, told the New York Times. "But outdoor cross-country, where distance can be maintained, might be fine to continue."
Benefits outweigh the downsides
As many parents know, tele-education has proven to be stressful for everyone involved. However, CDC officials said there wasn't really a safe option during the early stages of the pandemic. 
"Planning for the 2020/2021 school year included much uncertainty about the risk of transmission in school settings. While the benefits of in-person school attendance were well understood, the appropriate evaluation of its risks vs benefits was hampered by limited information about transmission risk in classroom settings," the CDC officials wrote.
"Closing schools could adversely affect students' academic progress, mental health, and access to essential services; however, if SARS-CoV-2 rapidly spread in classrooms, opening schools might accelerate community transmission of the virus. There were no simple decisions for parents, teachers, administrators, or public officials."
The proof speaks for itself
Now that the world is starting to understand COVID-19 better, vaccines are being distributed, and there's research to back up the CDC's guidance, schools are able to reopen with more safety than before. While there have been some actual school-related cases of COVID-19 reported, the officials say there has been little evidence that schools have "contributed meaningfully to increased community transmission."
In fact, being inside of a classroom has proven to be safer than being in a circle of friends and family. Citing a controlled study in Mississippi with children aged 0 through 18 years, the study showed that attending gatherings and social functions outside the home, as well as having visitors in the home, was associated with increased risk of infection; however, in-person school attendance during the 14 days prior to diagnosis was not. 
The success of the Mississippi study was also repeated in rural Wisconsin and 11 school districts in North Carolina.