---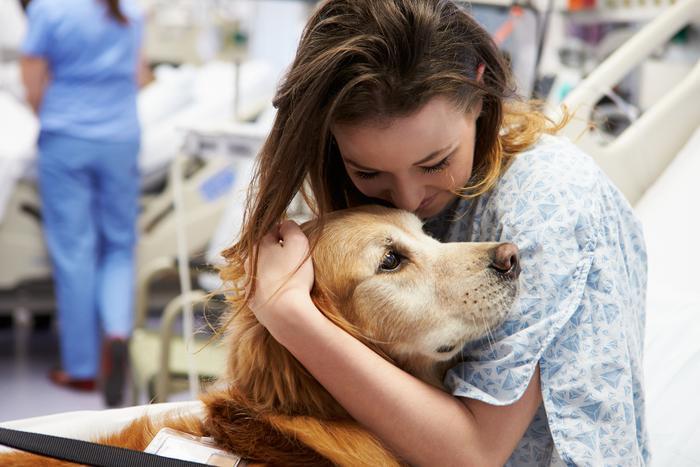 Pets have achieved a new role in hospital settings and taken over where Candy Stripers left off. They visit the sick and bring a little smile to their faces. They can make an uncomfortable place bearable for a few moments.
Responding to the growing popularity of so-called therapy animals, the Society for Healthcare Epidemiology of America (SHEA) recommends that only dogs — not cats — be allowed in hospitals for pet therapy programs.
The goal is to reduce the health risks that animals pose to hospital patients and staff.
"While there may be benefits to patient care, the role of animals in the spread of bacteria is not well understood. We have developed standard infection prevention and control guidance to help protect patients and health care providers," Dr. David Weber, a lead author of the recommendations, said in a statement.
There haven't been any long-term studies on the risks that therapy animals may pose in a hospital setting but in a 2006 study of 100 dogs in Ontario, Canada, hospitals found that about 80 percent of the animals carried potentially harmful bacteria, including Clostridium difficile and Salmonella.
However, the study did not look at whether the animals could transmit the diseases to patients. In the United States, the Centers for Disease Control and Prevention has never received a report of an infection related to pet therapy, according to the Mayo Clinic.
No cats
Weber's group interviewed 300 SHEA members. They reviewed information from studies on animals in health care settings, as well as existing hospital policies.
"Cats should be excluded," the guidelines continue, "because they cannot be trained to reliably provide safe interactions with patients in the health care setting." Cats are more likely to scratch or bite and more people are allergic to cats than to dogs.
SHEA also set up some guidelines for pet therapy animals. Dogs should be at least a year old and should undergo formal training and evaluation for their behavior in a health care setting. Handlers should also be trained. Hospitals should look for animals that have been certified by pet therapy training organizations.
Many times patients request that their own pets come and visit, but SHEA would like to curb that activity. It may be hard to prevent patients other than the owner from encountering a visiting pet.
Not all hope is lost for our feline friends. Dr. Rekha Murthy, a co-lead author of the guidelines, said cats could be used at the discretion of individual institutions.
---