---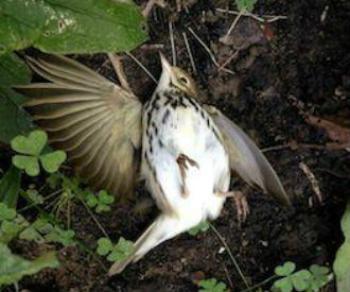 Cats are frequently vilified as ruthless mass murderers who prey on the bird population. While it's true that most cats harbor the desire for an occasional free-range feast, a new study finds that millions of suburban homes across North America snuff out hundreds of millions of birds per year.
More specifically, it's the windows in those suburban homes, especially those that have backyard bird feeders and lots of foliage and trees for birds to roost in and rest on.
Some homeowners may protest that skyscrapers are the real threat, but a new study in The Condor: Ornithological Applications finds that because there are so many more homes than high-rise buildings, they're the cause of most fatal bird-window collisions, confirming an earlier landmark study conducted by Scott Loss of Oklahoma State University in 2014. 
"Although each typical residential dwelling only causes one or a few bird-window collisions per year, the enormous number of these buildings means we are killing far more birds in our collective backyards than are dying at large office buildings and skyscrapers," Loss found. 
Collision data
In the latest study, Justine Kummer of the University of Alberta worked with homeowners who collected and contributed more than 34,000 days' worth of collision data. They found that a bird feeder, the home's location (urban or rural), and the height of the yard's vegetation were the most important predictors of collisions.
Homeowners participating in the study agreed to walk the perimeters of their houses daily and report evidence of bird-window collisions.
"Conducting a citizen science project had a number of challenges," says Kummer. "Unlike some other projects, I didn't spend my time collecting data; I spent it trying to recruit homeowners and educate the public about the issue."
What to do
So what's a bird-loving homeowner to do?
You probably don't want to remove your bird feeder or cut down the trees and shrubs around your house. Instead, Kummer suggests simple solutions like applying highly visible tape or film to your windows. 
You might also want to take down that bird feeder.
---