---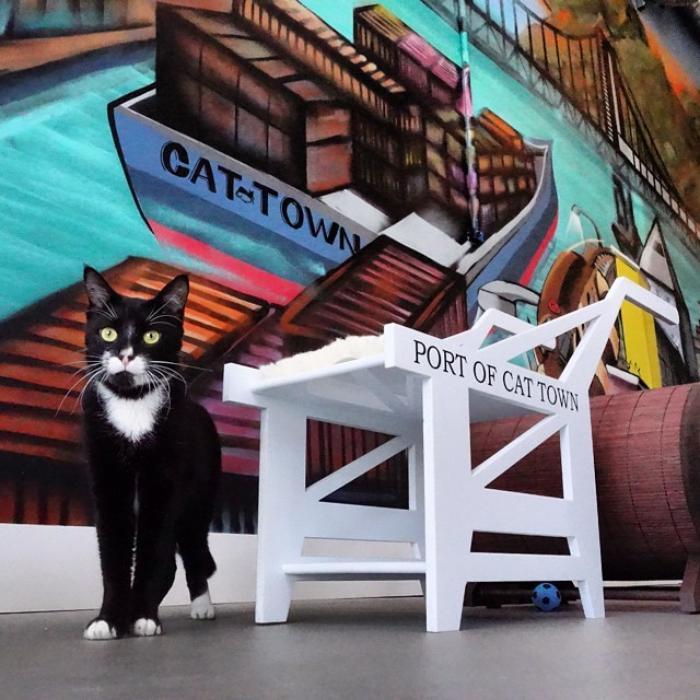 Cat got your tongue? It just might, at the brand new Cat Town Cafein Oakland, Calif. It's a first for cats. The two people who created this unique cafe are Adam Myatt who goes by the moniker "Cat Man of West Oakland" and Ann Dunn who founded a local cat rescue organization.
They describe it as "an elaborate play area" where customers can order drinks and spend quality time with up to 12 adoptable cats. The cafe has two areas -- one a food prep area and counter where you can order the usual cafe items like coffee, tea, sandwiches and pastries.
Then there is a play area for the fabulous felines, with cat-sized replicas of city icons and murals featuring famous cats of pop culture. A limited number of people can be in the lounge area at one time to interact with the cats.
Least adoptable
All of the cats at the cafe are from Oakland shelters and they have been labeled as the least adoptable cats. The funding came via IndieGogo, which raised $40,695 and $20,000 was donated by Pet Food Express.
"The Cafe allows us to not only empty more cages, but allow the cats who remain at the Oakland shelter to get more attention from volunteers, stay healthier, and have more opportunity for sooner adoption with fewer cats and kittens competing for attention," the cafe's website says.
Similar businesses are set to open soon in San Francisco (KitTea), Portland (Purringtons), Los Angeles (Catfe), Denver, (Catco) San Diego and Seattle (Meowtropolitan).
Don't think you can take a cat nap and then get in to the Cat Town Cafe. You need to make reservations as there is a waiting list to visit.
---