---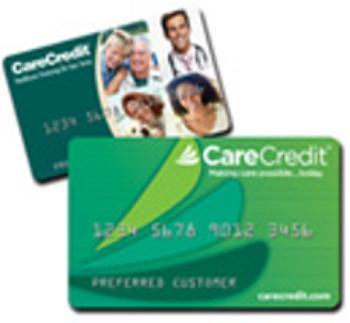 GE Capital Retail Bank has been ordered to refund up to $34.1 million to as many as 1 million consumers who may have been talked into signed up for CareCredit credit cards by their doctors and dentists.
The Consumer Financial Protection Bureau announced the action today, saying that many consumers who signed up for the cards to help pay their medical bills thought they were interest free. But in fact, they were accruing interest that kicked in if the full balance was not paid at the end of a promotional period.
"Medical debt is already a big problem for many Americans. Poor credit card transparency should not be making the problem even worse," said CFPB Director Richard Cordray. "Deferred-interest products can be risky for consumers in the best of circumstances, and today's action ensures that CareCredit will no longer profit from consumer confusion. The Bureau will not tolerate financial companies that take advantage of patients and their loved ones."
CareCredit offers personal lines of credit for health-care services, including dental, cosmetic, vision, and veterinary care. Doctors, dentists and other medical providers and their office staff, such as office managers and receptionists, are the primary sellers of the product, offering it as a payment option for their patients. The product is sold by more than 175,000 enrolled providers across the country. There are about 4 million active CareCredit cardholders.
Deferred interest
Approximately 85 percent of CareCredit borrowers are placed in a deferred-interest financing plan. Under this "no interest if paid in full" plan, consumers make monthly payments while CareCredit assesses 26.99 percent annual interest on a consumer's balance throughout a promotional period, which can range from six to 24 months. If any portion of the balance has not been paid when the promotional period ends, the consumer becomes liable for all of the accrued interest.
According to the CFPB order, since January 2009, consumers who signed up for the credit card frequently received an inadequate explanation of the terms. Many consumers, most of whom were enrolled while waiting for health-care treatment, incurred substantial debt because they did not understand how they could have avoided deferred interest, penalties, and fees. The CFPB began investigating CareCredit after receiving hundreds of complaints from consumers.
During the course of its investigation, the Bureau found evidence of:
Deceptive enrollment processes:

The CFPB found that service providers misled some consumers during the enrollment process by not providing adequate guidance clearly laying out the terms of the deferred-interest loan. CareCredit's limited involvement during the enrollment process and lack of oversight and monitoring allowed this deception to continue.

Inadequate disclosures:

Many consumers did not receive copies of the actual CareCredit agreements and instead had to rely only on the oral explanations given by the service provider or office staff. Many consumers were enrolled on the belief that it was an interest-free card, and did not understand that they were actually agreeing to a deferred-interest product with a 26.99 percent interest rate.

Poorly trained staff:

Many staff members in the health-care offices, who were responsible for explaining the CareCredit agreement to borrowers, had received little or no training by CareCredit, and relied only on pamphlets. In interviews with CFPB investigators, some providers admitted that they were themselves confused by the deferred-interest card.
---