---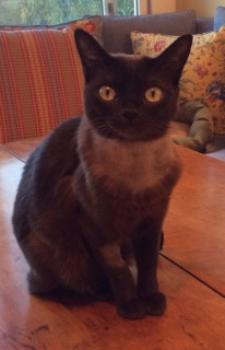 One lucky cat used up only one of her nine lives thanks to a group of human cardiologists. Vanilla Bean is a one-year-old Burmese cat from Mill Valley, California. She was diagnosed with a rare congenital heart defect by a veterinary cardiologist, Kristin MacDonald, a former UC Davis cardiology resident.
The problem was that the blood was not flowing properly through the chambers of her heart. That would eventually clog one of the chambers making it full and creating,congestive heart failure. This same issue is also found in children.
Dr. MacDonald was familiar with a procedure to correct the defect. A special technique for correction has been reported only once before by Dr. Josh Stern, DVM, when he was practicing at North Carolina State University.
Luckily for Vanilla Bean, Dr. Stern has since joined the faculty of the Veterinary Medical Teaching Hospital (VMTH) at UC Davis. Instead of being 3,000 miles away, the possible answer to Vanilla Bean's problem was less than 100 miles away. So Dr. MacDonald contacted Dr. Stern, and started the process of referring the case to UC Davis.
Vanilla bean went to UC Davis and had an ultrasound to allow the doctors to see if she would be a good candidate for surgery.,She turned out to be a good candidate and they moved forward.
Dream team
Since this is so rare in cats Dr. Stern wanted to bring in a team of human cardiologists to help him. It is also rare in children but it has been performed more frequently in children than in cats. A dream team was formed of both human and veterinary surgeons.
Because cats are so small it is extremely difficult to perform such delicate surgery. The procedure went relatively well although,Vanilla Bean lost a lot of blood and suffered an acute kidney injury. Doctors feared she would die.
Remarkably, as the weeks progressed she progressed and now the doctors say at her four-month re-check examination, Vanilla Bean has continued to improve. She is no longer in congestive heart failure, and is off all medications.,,Dr. Stern expects her to make a complete recovery.
---