---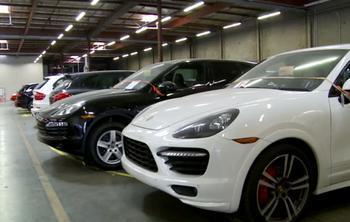 The insurance agency found that the Mercedes-Benz, a long-recognized symbol of luxury and performance, remains a favorite among car thieves. Three Mercedes-Benz models — the C Class, E Class and S Class — landed in the top 10.
Overall, 4,384 luxury class vehicles were stolen during the period covered by this report.
Within the three sub-classes, compact luxury models had the highest number of thefts at 2,150. They were followed by mid-sized luxury models with 1,734 thefts. Premium luxury thefts totaled 500 units.
Geographically, California had the most luxury thefts, with 1,063. South Dakota and Wyoming had the fewest -- one each.
The top 10 states alone accounted for 3,547 luxury vehicle thefts — 81 percent of the total.
Breaking it down by metro areas, however, puts the New York-Northern New Jersey-Long Island area on top, with 806 thefts. The Los Angeles-Long Beach-Santa Ana area came in second with 491 thefts while third place went to Miami-Ft. Lauderdale-Pompano Beach.
Of the 4,384 luxury vehicles stolen, 713 remain unrecovered at the time of the report. That translates to a recovery rate of 83.7 percent. The Infiniti G Series had the highest number of unrecovered thefts at 83, followed by the Mercedes-Benz E Class with 80, and the Mercedes-Benz C Class with 78.
Financial fraud
Not all "hot" cars are boosted in the dead of night. Some are driven right off the showroom floor by people who appear to be legitimate buyers. Those thefts often involve financial fraud and don't wind up in the stolen car reports.
Many times luxury vehicles are leased or purchased on a payment plan and then the vehicles are quickly exported out of the country, as shown in this NCIB video:
---