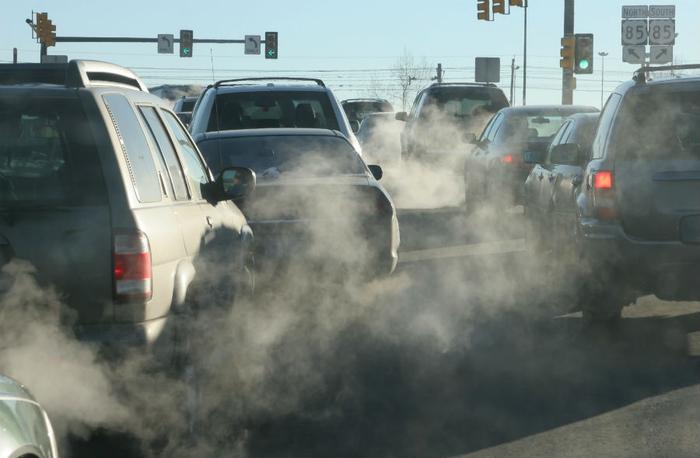 The auto industry is presenting consumers with a stark choice if they want  cars to emit less pollution in the future. In an interview, an auto industry lobbyist evoked a communist-style takeover of personal trucks to justify the industry's successful campaign to undo Obama-era fuel efficiency standards.
"To meet the standards, some people would have to give up their trucks," Wade Newton, a spokesman with the Auto Industry Alliance, the powerful trade group representing the automobile industry, told ConsumerAffairs.
Newton said that earlier plans for personal car and truck fleets to reach an average of 54.5 miles per gallon by 2025 -- which the industry initially agreed to under the Obama administration -- are no longer feasible because gas prices are lower than carmakers anticipated.
That, in turn, has caused consumers to choose trucks over electric cars. "I don't think people forecast that consumers would want [the number of] trucks that they have," Newton said.
But experts and environmental advocates say that selling fully electric vehicles, though helpful, was never a key part of the 2025 standards.
"These standards don't require that a single electric vehicle be made," Dan Becker, director of the Center for Auto Safety's Safe Climate Campaign, told ConsumerAffairs. "The auto companies are trying to confuse people by saying that people don't want the vehicles that would be made under the standards."
Pointing to a technical analysis done by the EPA under the previous administration, advocates say that the technology already exists to make gas-powered vehicles efficient enough to reach an average of 54.5 miles per gallon by 2025.
Instead of using that technology, however, car companies have convinced Trump to indefinitely postpone the regulations. At the same time, the car industry is asking consumers to buy electric vehicles that are in shorter supply and more costly upfront.
Detroit follows Tesla
Tesla may like to portray itself as the start-up taking on entrenched automobile interests, and it is the only car company to continue publicly endorsing the Obama-era fuel standards. But plenty of brands are at least paying lip service to electric and plug-in vehicles and are promoting their own electric models.
General Motors has embraced electric vehicles more quickly than any other of the "big three" automakers in the United States, with the company's popular Chevy Bolt coming a close second to Tesla's Model S in electric vehicle sales last year.  
"General Motors believes the future is all-electric," Mark Reuss, the company's head of product, said in an announcement last October. "We are far along in our plan to lead the way to that future world."
Other companies are vowing to catch up. Earlier this year, Mercedes Benz said it would make electric versions of all its vehicle models by 2022 and build a "global battery network" to support the program.
Ford Motor Company, which moved just 1,817 of its electric Focus models in 2017, similarly promised to ramp up its efforts and double their investment in electric cars in the near future.
"We're all in," Ford Motor Executive Chairman Bill Ford Jr said of electric cars at the North American International Auto Show that took place last January. "The only question is, will the customers be there with us?"
The Alliance of Automobile Manufacturers, the trade group that represents "the big three" as well as a dozen other major international brands, introduced a campaign last month to encourage consumer purchases of electric cars on the East Coast.
"The 'Drive Change. Drive Electric.' campaign will focus on the benefits of electric cars and advancing consumer awareness, understanding, consideration and adoption of these vehicles in the region," the group says in their campaign.
"That's the challenge...we invested billions of dollars in alternative technologies and fuel efficient vehicles," Newton, the car industry lobbyist, tells ConsumerAffairs. "We need consumers to embrace those products."
But, in fact, consumers have already been embracing the models -- 2017 was a record year for electric vehicle sales, with 199,826 vehicles sold in the United States, according to figures analyzed by Ars Technica. That represents a 25 percent increase from 2016, which was another record year for electric car sales.
Electric cars, which advocates say are helpful in reducing greenhouse gas emissions in states where the grid is clean, are more popular than ever, but they still constitute only a fraction of the cars that get produced.  
"They're not making very many of them," Becker says, pointing to Ford's particularly slow embrace of electric cars.
"We're not evaluated on what we make, we're evaluated on what consumers buy," responded Newton to such criticisms. "We produced a lot. The problem is selling them."
The original agreement
The original plan to make vehicles twice as efficient by 2025 was hailed as a major compromise between environmentalists who wanted stricter standards and an industry that is resistant to change.
The Corporate Average Fuel Economy (CAFE) standards, which measure the average fuel economy of a corporation's passenger car and truck fleet, were introduced by the feds during the Arab oil embargo in the 1970s. From its inception, auto companies based here and elsewhere resisted attempts to regulate their overall emissions. Emissions gradually improved over the years, but change happened slowly.
The long-term compromise that the companies agreed to seven years ago marked a historic departure. Joined by representatives from Ford, GM, Chrysler, and foreign manufacturers, Obama announced in 2011 that the CAFE standards would gradually increase, with a final goal of reaching 54.5 miles per gallon by 2025, or a 50 percent reduction in greenhouse gases.
The 2025 figure was lower than the 62 mpg standard that environmentalists said was doable and necessary, but advocates were cautiously optimistic at the time that the less restrictive standards would still reduce pollution.
"The talks over the last few weeks have yielded real progress, and we're hopeful there's a way to improve fuel economy but retain customer choice and the industry's recent resurgence," a General Motors spokesman said at the time.
Auto industry changes its tune
Not long after Trump was elected into office, however, car companies began singing a different tune. The Alliance of Automobile Manufacturers sent the Trump administration a letter last year claiming that the emissions rules they previously agreed to were unrealistic. (The industry says that their request to have the regulations reviewed had nothing to do with the new administration).
And several weeks after Trump's inauguration in January 2017, the CEOs of Ford, General Motors, and Chrysler Fiat met with him privately. Afterward, Ford Motor Company's then-CEO Mark Fields proclaimed that 1 million United States jobs would be at risk under Obama's fuel economy standards.
"It was a Trumpian alternative fact by this Ford CEO," says Becker, the director of the Safe Climate Campaign, noting that Ford Motor Company does not employ close to one million people at its manufacturing plants in the United States. According to figures from the US government, the entire auto industry combined does not employ one million people at manufacturing plants in the United States.
Regardless, it's an argument that has worked with an administration that has been characteristically hostile to any environmental regulations, especially if they were imposed under Obama.
In early April, after months of discussions, EPA administrator Scott Pruitt announced that he would establish new, more relaxed fuel standards for cars made between 2022 and 2025, citing arguments made by car companies that consumers were not interested in fuel efficient cars.
Pruitt's analysis also said that safety and consumer choice was at risk under the Obama plans. "One thing they haven't done is say that the previous technical analysis was wrong," says Becker, with the Safe Climate Campaign. "This is mechanics, not rocket science. All these companies have the technologies."
By casting the previous administration's analysis aside, the EPA under Trump has "decided to ignore this evidence and misconstrue how the standards work," David Cooke, a senior vehicles analyst with the Union of Concerned Scientists, wrote in a recent blog post.
Uncertainty about the new standards
How the new fuel standards will look is unclear. EPA administrator Scott Pruitt has not yet announced what the new standards will be, only that the Obama rules have been put on hold.
In his report explaining why they were reworking the Obama-era rules, Pruitt and the EPA relied heavily on criticisms leveled by the auto industry that did not propose any alternative solutions. Newton, with the auto alliance, says that stakeholders have not reached a consensus on what they want.
Automakers have at times wavered between complaining about the Obama-era standards while stating that they would still comply with them. One Ford representative told the site CityLab recently that they have "not asked for a rollback," instead characterizing their own lobbying efforts as simply a request for more "flexibility."
"We will continue to work with EPA, NHTSA, and California on one national standard with additional flexibility to help us provide more affordable options for our customers," the Ford spokesman told the site.
California to propose its own standards
California has promised to enact its own efficiency standards should the Trump administration back away from the 2025 plan, sparking Pruitt's EPA to threaten legal action against the state. The uncertainty is bound to create a regulatory headache for car companies.
Advocates like Becker say that the industry may be getting more than they bargained for under Trump, as California and governments in other nations  impose stricter standards on fuel emissions that could conflict with the standards that Pruitt may introduce.
Environmental organizations, meanwhile, have jumped on what they describe as auto industry double talk, with GreenPeace releasing a spoof ad for a "Ford future" that shows a family using oxygen masks.
The auto industry alliance disputes the idea that they are "greenwashing" their image by promoting electric cars while lobbying to loosen fuel standards. If more consumers could just buy electric cars, the auto industry says there wouldn't be a problem.
"We want attention to these fuel efficient vehicles," Newton says.