---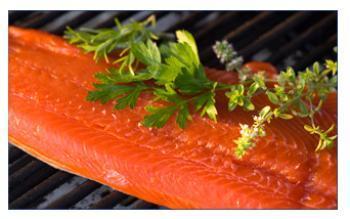 Genetically modified grain, though controversial, is nothing new. But look out fish fans, genetically modified salmon is moving closer to supermarkets and your dinner table.
Environment Canada has granted a U.S. biotch firm, AquaBounty Technologies, permission to begin exporting genetically-modified (GM) salmon eggs from its hatchery on Prince Edward Island, Canada, to a site in Panama, where the eggs will be hatched and the resulting fish grown.
AquaBounty says the eggs include a gene from the Chinook salmon that provides the fish with the potential to "grow to market size in half the time of conventional salmon."
A Canadian environmental group called it "an alarming decision that sets Canada up to be the source of global environmental risk."
"We are extremely disappointed and alarmed that our government has approved the production of GM fish eggs. GM salmon egg production in Canada endangers the future of wild Atlantic salmon around the world," said Lucy Sharratt of the Canadian Biotechnology Action Network. "It's simply crazy that the world's first GM fish eggs are now going to be coming from Canada."
"We're devastated that Prince Edward Island is now officially the home of the Frankenfish," said Leo Broderick of the Prince Edward Island (PEI) group called Islanders Say No to Frankenfish, "We don't want our Island to be the source of this dangerous living pollution."
It's the first time a government has approved commercial-scale production of a genetically-modified food animal, according to The Guardian. It opens the way for AquaBounty to begin ramping up production in hopes of winning entry into the U.S. market, where the Food and Drug Administration (FDA) is expected to reach a decision on salmon and 30 other species of fish soon.
"High risk"
The Canadian government made the decision despite admitting that the genetically-modified fish would present a "high risk" to wild Atlantic salmon if they escaped into the wild but said that wasn't likely to happen.
"There are strict measures in place to prevent the release of this fish into the food chain," an Environment Canada spokesman said by email, The Guardian reported. "In Canada, no genetically modified fish or eggs are currently approved for the purposes of human consumption."
The genetically-modified fish may not have smooth sailing in the U.S. Consumer groups are organizing against it and several major retailers have already said they won't carry it.
In May, Target became the latest large food retailer to pledge that it won't sell genetically engineered salmon. It joined nearly 60 other stores inlcuding Trader Joe's, Aldi, Whole Foods, Marsh and Hy-Vee.
"There's no room on our plates for genetically engineered seafood. Consumers don't want it and price-competitive stores across middle America are refusing to sell it," said Eric Hoffman food & technology policy campaigner with Friends of the Earth. "We need to see more big retailers take this kind of initiative. We're hoping that Safeway, which has become a real leader in seafood sustainability in other ways, and other major grocery stores turn the corner here and pledge to stay away from genetically engineered salmon."
---