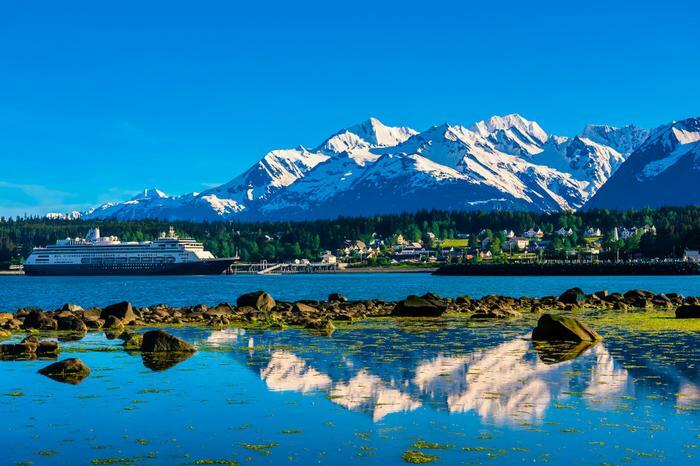 Travelers hoping to break away from the coronavirus situation in the U.S. mainland and take a cruise to Alaska, where the number of positive cases and hospitalizations is declining, may have to rethink that plan. The Canadian government has decided that idea is no-go for the rest of 2021.
On Thursday, Canada banned cruise ships carrying 100 or more people from its waters through the end of the year, which pretty much puts the kibosh on Alaska cruise season before it even sets sail.
If you're asking what Alaska has to do with Canada, the answer is two-fold: 1) It's hard to get to Alaska without going through Canadian waters; and 2) Many Alaska cruises start in Vancouver, Canada, and the ones that start in Seattle have to have a one-day stop in Victoria to satisfy certain U.S. maritime laws.
Omar Alghabra, Canada's Minister of Transport, said that the country's decision came about over concern that cruise vessels in Canadian waters pose a risk to Canada's health care systems. 
"Temporary prohibitions to cruise vessels and pleasure craft are essential to continue to protect the most vulnerable among our communities and avoid overwhelming our health care systems. This is the right and responsible thing to do," Alghabra said.
Cruise lines raise concerns
Understandably, the cruise ship companies aren't happy with Canada's ban because cruising in the 50th state is big business. The state welcomed 1.3 million cruisers in 2019, and it was anticipating to welcome 1.4 million in 2020 before the pandemic struck. 
"While it remains unclear what will happen with Alaska cruises in 2021, it looks like Canada is not yet moving in a direction friendly to cruises," Royal Caribbean International, a major player in the Alaska cruise game, fumed on its company blog.
Economic impact is also a concern. Cruise Lines International Association (CLIA-NWC) says the ban could have a devastating impact on local businesses. 
"Two years without cruising in Canada will have potentially irreversible consequences for families throughout the country," said Charlie Bell, Chair of CLIA-NWC. He notes that the cruise industry has creates $4.25 billion in economic activity for Canada and pays out $1.43 billion in wages while creating 29,000 Canadian jobs.
"We hope to have an opportunity to revisit this timeline and demonstrate our ability to address COVID-19 in a cruise setting with science-backed measures, as CLIA members are doing in Europe and parts of Asia where cruising has resumed on a limited basis," Bell added.