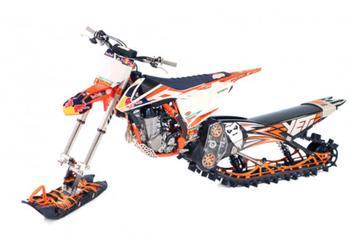 Camso of Canada is recalling about 380 Yeti SnowMX conversion kits.
The brakes on the snow bike can fail after the conversion kit has been installed, posing a crash hazard to the user.
The firm has received 12 incidents of the brakes failing. No injuries have been reported.
This recall involves Yeti Snow MX kits used to convert dirt bike motorcycles into snow bikes for use in snow.
The kit allows the replacement of the front wheel of a motorbike with a ski and rear suspension and wheels with a track system, and the addition of appropriate brakes with other components.
The Yeti Snow MX kits have a serial number starting with YE3XXXX or 964XXXX located under the unit. The Yeti logo is printed on the side of the product.
The model names and numbers of the kits are as follows:
Model Year 2018:
Yeti SnowMx 120 Sport SS 
Yeti SnowMx 129 Freeride SS 
Yeti SnowMx 120 Sport 
Yeti SnowMx 129 Freeride 
Yeti SnowMx 137 Mountain lite 
Model Year 2019:
Yeti SnowMx 120SS 
Yeti SnowMx 129SS 
Yeti SnowMx 129FR 
Yeti SnowMx 137MT 
Model Year 2020:
The conversion kits, manufactured in Canada, were sold at authorized Yeti SnowMX dealers from October 2017, through February 2020, for about $8,600.
What to do
Consumers should immediately stop using snow bikes with the recalled conversion kits and contact an authorized Yeti SnowMX dealer to make an appointment for a free repair.
Consumers may contact Camso toll-free at (877) 866-2275 from 8 a.m. to 5 p.m. (ET) Monday through Friday or online at yetisnowmx.ca and click on "News" at the top of the page then "Press Room" for more information.