---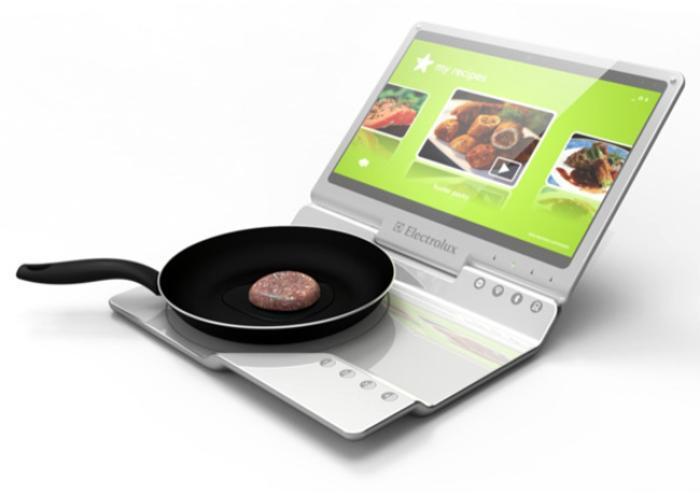 If you find it hard to get excited by a new smartphone or tablet, how about this? Dragan Trenchevski, an industrial designer from Macedonia, has developed the Electrolux Mobile Kitchen -- sort of the Coleman stove of the 2000's.
It's just what the name implies -- a portable kitchen that just happens to be designed like a laptop. (This is not his first invention -- he also has something called an e-roll. It's a rollable e-reader similar to a scroll.)
The "kitchen" comes complete with a 4-tier induction cooktop, a removable cutting board and grater. That's in addition to everything else. It's a touchscreen computer, and of course it has a camera (you need that for Facebook food pics) and Internet connectivity for looking up recipes; you can watch cooking videos and yak with your friends all at the same time.
It was inspired by notebook computers. You can take it camping or cook in the luxury of your own home. The battery is pretty large so it can power quite a bit of cooking.
The Electrolux Mobile Kitchen is still in the concept stage but things are starting to cook.
If this sounds a bit over the top to you, keep in mind that Electrolux has been making induction ranges for home use for years. It's a little counterintuitive, but these devices heat food through induction current. Instead of a hot burner, you put the food on the range top in a cast iron or stainless steel cooking pan and powerful currents make the pan heat up, thereby cooking the food.
The advantage is that induction cooking produces more heat, faster and with more control than a standard electric range. It's said to be more efficient than either gas or electricity.
---