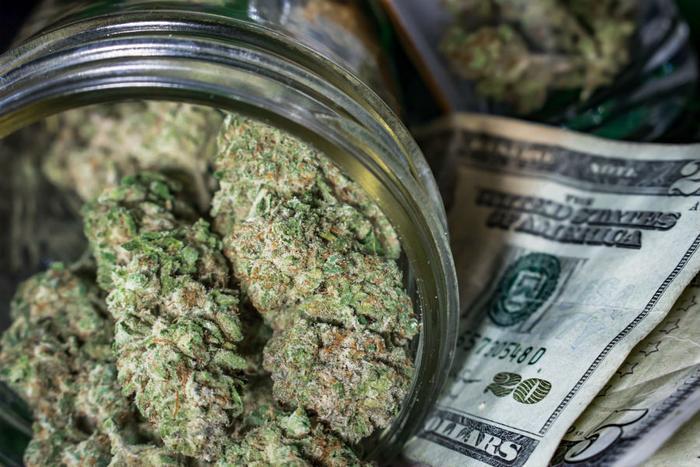 In the city of Los Angeles, people no longer need to meet with a drug dealer or a doctor if they want to buy weed. Instead, shoppers can wait in line outside a dispensary, flash their Government-approved ID cards, and then pay a 34.5 percent sales tax for the privilege of using recreational cannabis.
California's first year of recreational weed legalization has been slow due to high sales taxes and other regulations that put a chokehold on the industry.
Under the new recreational cannabis regulations, all California shoppers are subject to a state excise tax of 15 percent before local city taxes are added on. According to a recent analysis by the Los Angeles Times, sales taxes on recreational pot reached as high as 45 percent in some municipalities.
The first year of Prop 64
When California voters passed Proposition 64 in 2016, the promise of weed that could be easily purchased from a local storefront had industry experts and state officials seeing dollar signs. Despite fierce opposition from law enforcement groups, some state officials optimistically predicted that there would be 6,000 licensed cannabis shops in several years and $1 billion in annual revenue.
As the first year of Proposition 64's implementation comes to a close, however, the numbers tell a different story. The state Bureau of Cannabis Control has only issued 547 licenses to marijuana retail stores this year, and state tax revenue is expected to generate just $471 million.
In Oregon, by contrast, there are over 50 more dispensaries, despite the state's much smaller population. Oregon officials put a 20 percent cap on marijuana sales taxes.
Most cities banned weed
The majority of cities in California failed to embrace legal weed. They instead took advantage of a provision in Proposition 64 that gave municipalities authority to regulate weed sales.
Numerous beach cities, including Santa Monica, Redondo Beach, Manhattan Beach, and Hermosa Beach, saw their local city councils ban dispensaries entirely. Of California's 482 cities, only a total of 89 allowed recreational weed sales.
In cities like Los Angeles, where recreational weed is legal but extremely pricey due to added taxes, users can avoid the extra fees if they obtain a prescription from a doctor. Medical marijuana has been legal and tax-free in California for nearly two decades, but qualifying patients will have to register their names in a state database, a prospect that may make some uncomfortable.
Recreational weed was supposed to offer easier shopping and more anonymity than medical weed, yet that also hasn't turned out to be the case.
Numerous recreational dispensaries in California require shoppers to show their ID cards. The dispensaries then maintain information about those shoppers via "customer profiles" and other methods. That's despite Proposition 64 not having any requirements that recreational shoppers identify themselves.
"When asked why customer profiles were created, several dispensary workers incorrectly stated the information was required under Proposition 64," reports the Fresno Bee newspaper.