---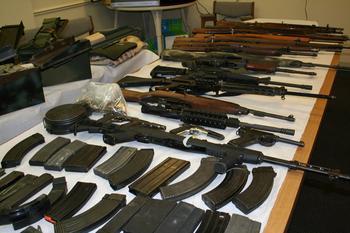 As the nation grapples with the aftermath of the unfathomable murders at a Connecticut elementary school, the focus is falling first on the nation's gun laws. President Obama has appointed Vice-President Biden to lead administration efforts to reduce gun violence.
In California, meanwhile, state Attorney General Kamala Harris announced law enforcement officials had used existing laws to seize 2,000 firearms from people who were not legally allowed to have them. She said they included people who were mentally unstable and those under active restraining orders.
"California has clear laws determining who can possess firearms based on their threat to public safety," Harris said. "Enforcing those laws is crucial because we have seen the terrible tragedies that occur when guns are in the wrong hands. This program is an important part of our law enforcement work and I thank all of the agents who work so hard every day to keep our communities safe."
Database
Harris explained how agents in her department used existing laws to reduce threats of gun violence. The California Attorney General's Office maintains a computer database called the Armed Prohibited Persons System (APPS). It identifies people prohibited from owning guns, including convicted felons, individuals with active restraining orders, and those determined to be mentally unstable.
In all, she says agents seized 2,033 firearms, 117,000 rounds of ammunition, and 11,072 illegal high-capacity magazines. These numbers include seizures conducted from January 1 to November 30, 2012.
The majority of firearms were seized during two 6-week sweeps. The first statewide sweep targeted individuals prohibited because of mental health issues and the second focused on people with legally registered assault weapons who were later prohibited from owning them.
The APPS database cross-references five databases to find people who legally purchased handguns and registered assault weapons since 1996 with people who are prohibited from owning or possessing firearms. The database was completed in November 2006, and the first statewide sweep was conducted in 2007.
Model for the nation?
Harris says California is the first and only state in the nation to establish an automated system for tracking handgun and assault weapon owners who might fall into a prohibited status. Could such a system be expanded nationwide, and if so would it be effective?
It could well be something Biden's task force will consider. The White House said Biden will coordinate a strategy among government agencies in an effort to reduce gun violence.
The National Rifle Association (NRA), a four million member organization that is a powerful Washington lobbying group, said it will hold a major news conference Friday, at which time it will comment on efforts to reduce gun violence.
"The NRA is prepared to offer meaningful contributions to help make sure this never happens again," the group said in a statement Tuesday.
---