---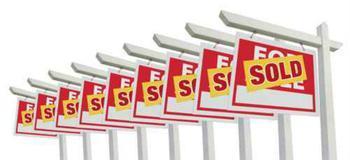 As we reported in recent days, housing affordability in California's red hot real estate markets has improved over the last few months. Industry experts say prices have leveled off a bit while incomes have risen.
But that doesn't mean the market is slowing down. The California Association of Realtors (CAR) reports 2016 ended on a strong note and 2017 started the same way.
If 2017 sales follow January's path, CAR estimates more than 420,000 existing homes will be sold statewide by December 31. That's up 2.1% from December and 4.4% from January 2016.
"California's housing market continues to be defined by the higher-priced, coastal markets and the less expensive, inland areas that still offer access to major employment centers," said CAR President Geoff McIntosh.
To find more affordable housing, McIntosh says many buyers are looking outside the core Bay Area markets of San Francisco, San Mateo, and Santa Clara. That's led to an uptick in sales in Contra Costa, Napa, and Solano.
In Southern California, the same thing is happening, leading to stronger markets in recent months in Riverside and San Bernardino.
Median price below $500,000
The median sale price of an existing single-family home in California fell below the $500,000 mark for the first time in nearly a year, but that doesn't mean homeowners are cutting prices. It simply means that more less-expensive, entry-level homes are selling, which is a healthy sign for the market.
California's median sale price was down 3.8% from a revised $508,870 in December to $489,580 in January. Still, that was 4.8% higher than January 2016.
CAR Senior Vice President and Chief Economist Leslie Appleton-Young credits the recent rise in mortgage rates with spurring January sales. She says homebuyers were motivated to act before rates move even higher, which she predicts will eventually have a dampening effect on housing markets, since it will likely put homeownership out of reach for some consumers.
The inventory of available homes has been extremely tight in California markets for months, but showed some improvement in January. CAR reports there were 3.7 months on inventory last month, compared to 2.6 months in December.
---